Skip Navigation
Website Accessibility
Quilt Corral Nov 2023 Newsletter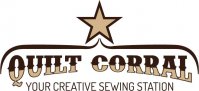 Howdy Quilt Corral Friends!
It's time for our annual "We are Thankful for You" message! Join us Nov 11, 2023 from 10 am to 5 pm for our Customer Appreciation Open House where we will also be sharing Chirstmas inspiration galore, the newest items from Quilt Market, refreshments and a surprise!
We will be closed Nov 23, 24 and 25 for Thanksgiving. We will reopen on Mon Nov 27th.
Congratulations to all the winners of the Northern California River Run Shop Hop event. Quilt Corral's basket was won by Karen Williams from Quincy, CA. Congratulations Karen! Thanks to all of you who came to Quilt Corral during the event!
Upcoming Events:
Ten Item Tues: Tune in with Carol for Facebook Live most Tuesdays at 3:00 pm. Ten minutes. Ten items (or more).
Check out the weekly list on the home page.
Customer Appreciation and Holiday Open House: Nov 11, 2023 this event is replacing the multi-shop 12 Gifts event we have coordinated for a number of years. This year it's just us! One stop with treats, inspiration and a secret surprise! Stop in anytime between 10 AM and 5 PM. We will be showcasing the new items we got at Quilt Market!!
Naughty or Nice Sew-in: Nov 30 and Dec 1. SOLD OUT!

Block of the Month:
Hometown Neighborhood Seed Packets BOM
Thank you for your enthusiasm for our BOM featuring Lori Holt's Seed Packet patterns. We can still take a couple more people in this program. Each month for nine months receive the Seed Packet pattern and fabric to make a 16" x 16" house block. In month ten, receive the finishing kit and instructions to set your house blocks into our Quilt Corral exclusive, Garden Maze setting. Fabrics will be the same or similar to those shown on the monthly patterns. The first block shipped in Oct and is shown below. The full quilt image shown is a mock up of what our quilt will look like.
Finished size: 78" x 78"
$26.99/month for 10 months. Sign up by pre-paying for month 1 here. Started Oct 1.
Limited to 12 participants.
Here is month one stitched in fabric.
Shop Hop Block of the Month!
Sign ups have ended. Beginning in Jan, 2024 visit a different shop each month to purchase and pick up your block of the month kit. Collect a little gift at each shop and get a ticket to enter a drawing to win the grand prize of a gift certificate to each shop at the end of the program. Shipping is available although the gift and door prize ticket is for in-store pick ups only.
Click here to download and print the pdf flyer with participating shops and the monthly order.
New Fabrics!
Wild Rose by Riley Blake. This collection brings the best of western and florals. Small cowgirl motifs, yes, cowGIRL, in tradtional colors of red, tan and denim blue stitches up beautifully into the Cowgirl's Dream boots pattern or an overall scrappy design in the Vienna pattern.
Click here to see the collection.
Click here for the Fat Quarter bundle.
Click here for the 10" squares.
Click here for the Wild Rose Vienna kit.
Click here for A Cowgirl's Dream kit.
Printed toweling
You're going to love this new 16" wide printed toweling. The sides are already hemmed for you! We have it in several 50s retro designs and colorways featuring patriotic, western, floral and chickens as well as in "farm house chic" strips! Can't decide? Get one of each!
Click here to see all toweling by the yard.
Featured Panel!
Zebra Highlights Panel Kit
We put this vibrant zebra panel into a kit with simple patchwork borders in prints that accentuate the colors in the panel. It finishes 55" wide by 43" high - the perfect size to hang above or drape over the back of the sofa in the den, or over a fireplace, or in a hallway. The simple construction means you can finish it quickly - in time for this year's holiday gift giving! On sale 25% off.
Click here for the kit.

New Kits!
Fluffy Biscuits Santa Kit
Yes, it's true, we've been showing you Christmas fabrics and projects for months. But this is a new kit, and it's so quick to make that there is still time for you to get it done this year! Finishes 59" x 77" making it the perfect size for a relaxing evening in the recliner with a holiday movie on the TV.
Click here for the Fluffy Biscuits kit.
Click here for the Santa panel.
Click here for the Saint Nicholas wallhanging kit with chenille.
Focus on handwork
Macaroon zipper pouch
Made entirely by hand this adoreable zipper pouch is not as hard as it looks! The pattern includes the little zipper and two metal discs that form the outer shell of the pouch. Inside is the nicest little nest for tucking your thimble, a pair of earrings, your earbuds, a few coins or a love note. We also have refills of the zippers and metal discs for when you fall in love with making them.
Click here for the macaroon pouch kit and refills!
Embroidery patterns
We have new embrodiery patterns just in. Check out the Aunt Martha's embroidery transfers and other iron on transfers. Are you loving the embroidery designs printed on water soluble stick on interfacing? We have new verisons in stock! And, now you can make your own with Solvy sheets or Transfer sheets that go through the printer.
Click here to see embroidery transfers.
Click here for peel, stick and stitch designs.
Click here for Solvy sheets.

New Notion!
Thread Cutterz Fish Snips
Featuring he same great ceramic blade as the Thread Cutterz rings, this new product from our fishermen friends at Thread Cutterz has retractable snips, PLUS the same thread cutter as the original zipper pull. It has a clip on the back (when using it for fishing) and an opening on the end for a lanyard (the quilter's way). Best of all, it measures 2 1/2" from tip to tip making it perfect for your hand sewing (Barb plans on using hers on the airplane!) Get one for your sewing kit and one for the fisherman in your life.
Click here for Pink Fish snips!
Click here for all Thread Cutterz products.
ViviLux Sewing Light
Attach to your machine and bend the flexible light to put bright LED lighting exactly where you need it. We brought a few of these home from Quilt Market with us. Designed by people who understand sewing!
Click here for the Vivlux Sewing Light.
New pattern!
Fawn Acres. Make this fabulous farm quilt in bright colors because who wouldn't love to sew a hot pink barn with a double row of colorful hens??? The pattern has quilts in two sizes: 72" x 84" or 45" x 56".
Click here for the Fawn Acres pattern.
Featured GO! Accuquilt!
Go! Weathervane Block on Board
Get out the scraps and start cutting. Stack layers, run the through the Accuquilt, then shuffle to get scrappy blocks in no time with the Go! Weathervane Block on Board. Makes an 8" block which mix and matches with the 8" Go! Cube. If inventory shows out of stock, please message us and we will order for you.
Click here fo the Go! Weathervane die.
Click here for the 8" Go! Cube.
Click here for the Ready Set Go starter set.

Back in Stock!
Scarlet Scissors in carrying case
It's been awhile since we've had these tiny embroidery scissors in their own carrying case but they are now back in stock!
Click here for Scarlet Scissors.
Let's talk about Backings
For a large quilt we typically use 5 1/2 yards with a center vertical seam to make a backing that measures up to 84" x 99".
For smaller quilts, like the popular lap quilts, that measure in the range of 50" x 60" did you know that it may be possible to get up to three backings from one 3 yd cut of wide backing?
If you think wide backs (108" or 118" wide) at Quilt Corral are too pricey per yard consider this: Cut two backings side by side and sew the leftover pieces together to get a third, depending on the size of the quilt and the amount of extra needed for the quilter. Suddenly the cost has become very economical.
Shop 108" wide backs here.
Shop 118" wide backs here.
Shop our new "Give Me Five!" 5 yard packages of standard 42" backing here. Call or visit the shop for current selections.
Veteran's Quilt Project
As the year comes to an end our friends at the VFW Aux Post 1770 are planning a dinner honoring all of the Veterans of the Year for 2023.
Thank you for supporting us in helping to provide each honoree with a quilt.
Here is James Baker showing his quilt. James was honored earlier this year.

With grateful hearts,
Carol and Barb

Upcoming:
Customer Appreciation and Holiday Open House: Nov 11, 2023.
Naughty or Nice Sew-In: Nov 30 and Dec 1. SOLD OUT!
Shop Hop BOM: Barn Star Sampler, starts Jan 2024.
Ten Minute Tues: Most Tuesdays at 3 pm on Facebook.

If you've missed any of our previous emails or just want to check a past email for something specific you can view them here in the newsletter archives.
Monday - Saturday 10 AM - 3 PM.
For needs outside of these hours please contact us via the contact page on our website, or via FaceBook, or by calling the shop. 530-934-8116