Skip Navigation
Website Accessibility
Quilt Corral October 2023 Newsletter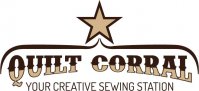 Howdy Quilt Corral Friends!
Welcome fall! With the change of seasons comes the Northern California River Run Shop Hop ( collect a leaf block kit at each shop), new table runner kits in fall prints, and new toweling kits with precut fusible shapes. At Quilt Corral it's all about pumpkins, leaves, acorns and such. Here is a sneak peek at our leaf block for River Run.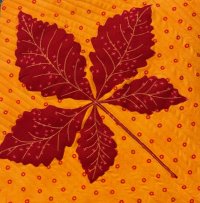 Upcoming Events:
Ten Item Tues: Tune in with Carol for Facebook Live most Tuesdays at 3:00 pm. Ten minutes. Ten items (or more).
Check out the weekly list on the home page.
Northern California River Run Shop Hop: Oct 5, 6 and 7, 2023. Hours are 9 AM to 6 PM each day. Collect a pattern and fabric kit to make a bright colored leaf block at each shop. Visit all shops to enter to win prizes. Click here to see the list of shops and all the details.
Holiday Open House: Nov 11, 2024 Save the date for our annual explosion of Holiday inspiration, gift giving ideas, special treats, demos, decorations and much more.
Naughty or Nice Sew in: November 30 and Dec 1, 2023. See below for more details.
Barn Star Sampler Shop Hop BOM starts: The whole month of Jan, visit Quilt Corral for Block One!
Second Annual Naughty or Nice Sew In!
Sign ups are now open for two days of fun holiday sewing. This year's theme is Handmade Happiness. We are implementing a few changes for this event. The hours will be 9 AM to 5 PM each day. Lunch will be provided. The registration fee is $50 for the two day event. Participants will also need to purchase the project box for $45. The box includes: everything needed to make 6 projects, the project book ($22.99 value), and a fabric panel ($17.99 value). All projects are Christmas themed.
To register click here.
Then click here to pay for and reserve your project box.
This event will be held at the Willows United Methodist Church, two blocks north of the Quilt Corral.
Space is limited to 25 max.
Block of the Month:
NEW! Mariner's Compass BOM
Using Marti Michell's templates make an 18" Mariner's Compass Block and 24 flying geese units each month for 9 months. The 10th month is the finishing kit. The template set and small flying geese ruler is included in the price. Piece the Mariner's Compass then applique the center circle and finish by appliqueing the block to the background. We started with Florence's Fancy and Union Square then added from our inventory of reproduction prints for this special BOM.
$20.99/month for 10 months. Finished size is 80" x 80"
Sign up and pay for month 1 by clicking here. Starts Jan 1, 2024
We accepted sign ups for this program at the Sept retreat so there is only one spot remaining.
Here is an example of one set of monthly sewing.
There will be two borders added to this to finish the quilt.
SOLD OUT! Let Freedom Ring Row a Month BOM is sold out. If you missed out and would like to purchase a stand alone pattern, click here.
Hometown Neighborhood Seed Packets BOM
We still have a few spots in this fun BOM featuring Lori Holt's Seed Packets. Each month for nine months receive the pattern and fabric to make a 16" x 16" house block. In month ten, receive the finishing kit and instructions to set your house blocks into our Quilt Corral exclusive, Garden Maze setting. Fabrics will be the same or similar to those shown on the monthly patterns.The image shown is an example of what our quilt will look like.
Finished size: 78" x 78"
$26.99/month for 10 months. Sign up by pre-paying for month 1 here. Starts Oct 1.
Limited to 12 participants.
Here is the block for Month 1:
New Fabrics!
Beecroft by Northcott
The prettiest bee collection we've had in awhile, Beecroft features dandilions, etched jars, and old fashioned bee keeps along with honeycomb and bee prints. We have two kits showcasing the collection, both designed to appeal to the slow stitcher with hexagons or Dresden plates. Simply charming.
Click here to see the enitre collection.
Click here for the Grandmother's Bee Garden kit (hexagons)
Click here for the Sunflower Kit (Dresden plates)
Prairie Sisters Homestead by Poppie Cotton
Charming motifs from Poppie Cotton abound in their latest collection, Prairie Sisters Homestead. This collection has cute cheeky-chickens, patchwork, and flowers, on aqua (for Carol) and pink (for Barb). Plus there are strawberries, prairie flowers and a complete encore of gingham checks and tonals in aqua and pink, of course, but also yellow, coral and blue. And, check out three new patterns. Poppie Cotton does such a good job of creating unique patterns for their prints.
Click here to see the entire collection.
Click here for the Sunny Kisses pattern.
Click here for the Afternoon Tea pattern.
Click here for the Vintage Violet pattern.
Featured Panels
Sew Journal by J Wecker Frisch
Sew Journal is the latest sewing collection by J Wecker Frisch for Riley Blake. It arrived between newsletters so it's high time to feature it! Sew Journal is a lovely blend of vintage sewing motifs, and typewriter prints with the usual panels in several sizes. The Journal panel and book covers are perfect for adding stablizer and embellishing by hand or machine (use all your decorative stitches and fun threads!) to make your own personal junk journal. Use the postcards to make real postcards that you can mail or gift to your sewing friends. We've put together a quick quilt kit featuring some of the collection.
Click here to see all of Sew Journal
Click here for the book cover panel
Click here for the book pagees panel
Click here for the postcard panel
Click here for the Sew Journal Kit put together by Carol
Snowfolks Embroidery panel
Marcus Fabrics brings us the cutest embroidery designs. Stitch up these cute little snowfolk to enjoy throughout the winter. The kit includes a striped fabric that makes the pieced borders look much more time consuming than they are. We have one kit left in stock.
Click here for the panel.
Click here for the kit.

New Kits! Kits for Fall!
Trick or Treat Mesh bag
There's still time to make a trick or treat bag for that little special someone! Bright orange mesh paired with charming Halloween prints. Includes the pattern to make a great sized trick or treat bag, or use it for passing out treats at your door. Kit includes the pattern, mesh and fabric.
Click here for the Trick or Treat bag.
Litlte Scraps Pumpkin Table Runner Kit
You can thank Carol for cutting the fusible pumpkins for you! You will have this little table runner made in no time!
Click here for the kit.
Autumn Living table runner
Fusible applique with a touch of embrodiery on toweling for a contemporary look!
Click here for the kit.
Acorn Love Table Runner Kit
We've had this Lori Holt pattern for awhile but have reimagined it in traditional fall colors for this kit.
Click here for the Acorn Love Table Runner kit
Farm Fresh Pumpkins Table Runner Kit - BACK IN STOCK!
This charming table runner kit was nearly sold out before the sample was even back from the quilter! Here's your second chance to get a kit in warm autumn prints.
Click here for the Farm Fresh Pumpkins Table Runner kit.
Focus on handwork
Frosty and Friends
This wool felt and flannel kit contains everything needed to make a small snowman wallhanging. Barb, our resident hand stitcher, likes to work on winter themed stitching during the holiday period even though it probably won't be finished in time.
Click here to get your Frosty kit.

New Notion!
Lori Holt Magnetic Flower Pincushion in Turquoise
Have you ever noticed that Lori Holt releases something cute in one color then later along comes the same thing in another color? This time it's the flower pincushion, originally in pink (for Barb) and now, just in, in turquoise aka sea glass (yes, you just heard Carol cheer!)
Click here for the NEW Seaglass magnetic flower pin cushion.
Click here for pink.
New patterns!
The Quilted Witch pattern
Another charming pattern from Lori Holt of Bee in my Bonnet. Get it now at the Quilt Corral!
Click here to get yours.
Barn Quilt Pattern
A customer favorite at Quilt Corral - Barns! Always! (The owners of Quilt Corral both love barns too!!) Make this stunning sampler in traditional colors as shown using the Country Life collection featured in the Sept newsletter.
Click here for the Barn Quilt Pattern.
Click here for Country Life fabric collection.
Featured GO! Accuquilt!
Go! Llama!
Have fun with this cute Llama die! Making a row quilt? Wouldn't a row of Llamas be charming on your quilt?
Click here to get the Go! Llama die.
Go! Fox
This cute little fox would look adoreable among the pumpkins and leaves you may be sewing this fall!
Click here for the Go! Fox die
Back in Stock!
Zippity Do Done zippers by June Tailor.
Hate sewing in zippers? These special zippers are already sewn in for you! Designed for use in tote bags and zipper pouches no zipper foot is requred for installation. Available in pink, white, or grey.
Click here to shop by color.
Veteran's Quilt Project
Quilt Corral continues to support the local VFW Auxillary by sponsoring their Veteran of the Month program. We congratulate Buck Squier and John Berens, recent honorees. Buck is also a quilter and one of our customers! How fun is that!
John also recieved a quilt but we didn't get a photo of him with it.
2024 UFO Retreats!! Save the Dates!
Announcing the dates for the 2024 UFO Retreats.
Mar 21 - 23, 2024
July 25 - 27, 2024
Sept 19 - 21, 2024
See you at the River Run!
"Fall into sewing!
Carol and Barb
Upcoming:
River Run: Oct 5-7, 2023
Holiday Open House: Nov 11, 2023
Naughty or Nice Sew In: Nov 30 and Dec 1, 2023
Shop Hop BOM: Barn Star Sampler, starts Jan 2024.
Ten Minute Tues: Most Tuesdays at 3 pm on Fackbook.

If you've missed any of our previous emails or just want to check a past email for something specific you can view them here in the newsletter archives.
Monday - Saturday 10 AM - 3 PM.
For needs outside of these hours please contact us via the contact page on our website, or via FaceBook, or by calling the shop. 530-934-8116