Welcome to the Dog Days of Summer - those last few lazy days before school resumes and harvest begins. To celebrate Dog Days we have a few dog items on sale - click on the images at the end of this newsletter to see the sale price.
Upcoming Events:
Ten Item Tues: Tune in with Carol for Facebook Live most Tuesdays at 3:00 pm. Ten minutes. Ten items (or more).
Check out the weekly list on the home page.
Sept Retreat: Sep 21-24, 2023. General registration opens Aug 14 for repeat attendes and Aug15 for newcomers. See retreat info below.
Shop Hop Block of the Month: Oct 1, 2023 deadline to sign up. Starts Jan 2024.
Northern California River Run Shop Hop: Oct 6, 7 and 8, 2023. Collect a pattern and fabric kit to make a bright colored leaf block at each shop. Visit all shops to enter to win prizes. Click here to see the list of shops and all the details.
Twelve Gifts of Christmas: Nov 10-11, 2023. Save the date for this fun and inspiring mini shop hop. More info next month.

Block of the Month:
NEW! Home Town Neighborhood Seed Packets BOM
We just received our shipment of Lori Holt's new Seed Packet patterns. Each month for nine months receive the Seed Packet pattern and fabric to make a 16" x 16" house block. In month ten, receive the finishing kit and instructions to set your house blocks together in our own Garden Maze setting. Fabrics will be the same or similar to those shown on the monthly patterns.The image shown here is an example of what our quilt will look like.
Finished size: 78" x 78"
$26.99/month for 10 months. Sign up by pre-paying for month 1 here. Starts Oct 1.
Limited to 12 participants.
Shop Hop Block of the Month!
Adventure awaits! Beginning in Jan, 2024 visit a different shop each month to purchase and pick up your block of the month kit. Collect a little gift at each shop and get a ticket to enter a drawing to win the grand prize of a gift certificate to each shop at the end of the program. Sign up at any participating shop. Sign ups end Oct. 1. Shipping is available although the gift and door prize ticket is for in-store pick ups only.
Get a group together and plan a different quilt shop road trip adventure for every month of the year.
Click here to sign up.
Click here to view the flyer. Scroll down to Upcoming Events.
Click here to download and print the pdf flyer with participating shops and the monthly order.
New Fabrics!
Raindrops Texture by Oasis Fabrics
Beautiful textures in splashy colors. New from Oasis fabrics. Consider using these prints with that panel that you need a perfect accent print for the borders.
Click here to shop all of Raindrops Texture.
Featured Panels!
White as Snow Cross Stitched Quilt Kit Start with panel blocks, stitch up alternate cross blocks to make this throw in no time! A great project for weekend sewing or retreat stitching.
Click here for block the panel.
Click here for the kit.
Click here for the large panel.
Click here to shop all of the White as Snow collection.

New Kits!
Trick or Treat Mesh bag
Bright orange mesh paired with charming Halloween prints. Includes the pattern to make a great sized trick or treat bag, or use it for passing out treats at your door. Kit includes the pattern, mesh and fabric.
Click here for the Trick or Treat bag.
Saddle Up Tote Bag
At our recent retreat we were excited when some of our attendees made mesh bags in a combination of brown mesh and cow hide print. Taking inspiration from them, we've created kits that include the mesh, webbing, fabric and instructions to make your own large sized tote bag that says Western, loud and clear.
Click here for the Western tote bag kit.
Oh What Fun Table Runner Kit
We shared the charming Oh What Fun fabric collection with you last month. Since then Carol has put together this quick table runner project and it is now available as a kit. Note from the sample sewer: The folded corner ruler is super helpful!
Click here for the table runner kit.
Click here for the folded corner ruler.
Focus on handwork
Seasons of the Heart Woolies Flannel Kit, by Kathy Sullivan
Here's a deal for those of you who love handwork but aren't crazy about all the prep work! The fabrics are pre-printed, the appliques are pre-fused and pre-cut, the kit contains the pattern with the assembly instructions. Add your favroite floss, then just open it up and start stitching. Limited inventory. (Flannel woolies are by Maywood Studios and are cotton flannel. This kit does not contain wool.)
Finished size: 40" x 48"
Click here to shop.

New Notion!
Peel Stick and Stitch embroidery patterns
Those of us who enjoy handstitching know that the most tedious part is transfering the designs. Quickly decorate dishtowels, garments or tote bags with peel and stick designs. Stitch right through the pattern and wash away the interfacing when finished. Barb wants to try these flowers on the hems of denim jeans! Very retro!
Click here to shop both options.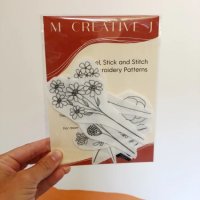 New patterns!
Zipper pouch sets
This unique pouch pattern includes instructions plus a whimsical printed panel for the front plus a charming coordinating zipper pull. Add fabric and a zipper in the color of your choice for a fun zipper pouch. The panel is 6" x 6", to give you an idea of scale. We have three designs to choose from.
Click here to shop all three options.

Mom and Me Apron Pattern
One pattern, three sizes! Make an adult, child and toddler sized double thickness apron using Terry Atkinson's well thought out pattern. There's a bonus pattern for a chenille potholder too! We used Farm Girl by Poppy Cotton for the shop sample.
Click here to shop for the pattern.
Featured GO! Accuquilt!
Go! Pincushion! This is the time of year quilters begin making items for fall boutiques. Have you ever considered the Go! Pincushion die? Cut the pieces for several pin cushions all at once - the die will even cut the notches on the side strips for easy sewing. Choose from one of the sewing themed appliques and either use fusible interfacing or just top stitch with contrasting thread, or leave plain and select a focus fabric (bees would be cute for your Quilting Bee buddies!) Fill with fiberfil or crushed walnut shells. You'll be surprised at how easy this die makes making this pincushion!
Click here to see other pincushion ideas including one with a wrap around pocket for holding clips, small scissors or a seam ripper.
Click here to purchase the die.

Back in Stock!
Gypsy Quilt every Nook and Cranny
Get a set of four little cleanning brushes each shaped differently to get into, as the title says, every nook and cranny!
Click here to get yours.
Handcrafted Rope Bowls
We've gotten a second shipment of rope bowls from Barb's friend in Kansas. Well made and beautiful, use these bowls as pretty little catch-alls next to your sewing machine. Also, they are microwave safe so you could use it as a bowl cozy! Barb puts her round magnetic pin bowl inside a small sized bowl so all her pressor feet and other metal items don't collect on the bottom of the magnetic bowl!
Small (approx 5") and Medium (approx 6") bowls in assorted colors available. Stop in or call for color options.
Click here to treat yourself to one!
Veteran's Quilt Project
At our July retreat we finished two veteran quilt tops and had another one donated to us ready for quilting. We appreciate everyone who has been sewing for our local veterans.
We are a little behind but have finally done the drawing from everyone who has stitched blocks for us.
Congratulations to the following quilters who have each won a $25 gift certificate to Quilt Corral.
First Quarter winner: Liz Dawley
Second Quarter winner: Olivia Loop

Sept retreat: Join us at the Glenn Co Fairgrounds for three days of sewing. $250 ($75 non-refundable deposit will hold your spot) includes 3 lunches and 3 dinners. Breakfast and lodging is on your own. If staying in an RV at the Fairgrounds, make your reservation directly with the fairgrounds office. Registrations will open Aug 14 for returning retreaters, and Aug 15 for newcomers. Sorry, but we do not accept requests to save a spot or "put me on the list". That way everyone who is interested has the same opportunity to attend.
Check the home page on Aug 15 for the link to register. We can accept 50 participants.

Dog Day Deals!
Click the picture to shop. Discounts good until Aug 31. Limited to inventory on hand.
Happy Dog Days everyone!
Carol and Barb

Upcoming:
Sept Retreat: Sept 21-24, 2023
River Run: Oct 5-7, 2023
Twelve Gifts of Christmas: Nov 10-11, 2023
Shop Hop BOM: Barn Star Sampler starts Jan 2024.
Ten Minute Tues: Most Tuesdays at 3 pm on Fackbook.

If you've missed any of our previous emails or just want to check a past email for something specific you can view them here in the newsletter archives.
Monday - Saturday 10 AM - 3 PM.
For needs outside of these hours please contact us via the contact page on our website, or via FaceBook, or by calling the shop. 530-934-8116