Happy summer! At Quilt Corral we can tell it's summer because Carol has been away on her annual family vacation, and Barb has had her granddaughter Etta with her for a week of Camp Kansas. (That's why this newsletter is a bit late.)
Upcoming Events:
Ten Item Tues: Facebook Live most Tues at 3 pm or just check out the most current list of items on the home page.
July Retreat: July 20-23, 2023. Sold out! For those attending, the schedule and additional info email has been sent.
Sept Retreat: Sep 21-24, 2023 registration will open Aug 15th.
River Run: Oct 4-6. Click here to download the flyer listing all participating shops.
Shop Hop Block of the Month: Starts Jan 2023. See below for more info.
Block of the Month:
Door Banner of the Month. Perfectly sized to hang on the front door OR inside on the back of a door. Make a different banner each month for a year. Use them yourself or, we think these would be perfect if you have a homebound friend who could use a little cheer each month. Even the smallest apartment has a door that might work for hanging.
Finished size 20" x 36"
Sign up by paying for the first month here. The program begins in Jan 2024 with the April banner. We will charge your card each month in advance. Limited to 12 participants.
Pictured are a few examples of the banners. To see all of them and to sign up click here.
It's Something New!! Shop Hop Block of the Month!
Adventure awaits! Beginning in Jan, 2024 visit a different shop each month to purchase and pick up your block of the month kit. Collect a little gift at each shop and get a ticket to enter a drawing to win the grand prize of a gift certificate to each shop at the end of the program. Sign up at any participating shop. Sign ups end Oct. 1. Shipping is available although the gift and door prize ticket is for in-store pick ups only.
Get a group together and plan a different quilt shop road trip adventure for every month of the year.
Click here to sign up.
Click here to view the flyer. Scroll down to Upcoming Events.
Click here to downlaod and print the pdf flyer with participating shops and the monthly order.
New Fabrics!
Oh What Fun! by Poppie Cotton
Love retro Christmas? Just in is this charming collection from one of our favroites - Poppie Cotton! We have a kit, precuts, coordiantes and a panel with banner, gift tags and other cute Christmasy do-dads.
Click here to shop all of Oh What Fun!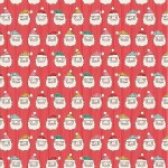 Featured Panels!
My Cowboy Gave to Me
Take a traditional Christmas song, add fun western motifs in red, green and grey and you get My Cowboy Gave to Me. The kit features the panel and several of the prints in an easy to make large lap quilt. Gift your Cowboy a special Christmas quilt.
Click here to shop the entire collection.
Click here for the panel.
Click here for the kit.
New Kits!
Owl Be Seeing You lap quilt kit
For those of you who are saying Christmas? Already? We haven't even had Halloween yet!
Click here for the kit.
Click here for the collection.
Click here for the panel.

Focus on handwork
Cabin Kit in wool
Have you been retreating to the cabin in the mountains to escape the heat? While reclining in the AC stitch up this Cabin banner by Granny's Legacy. Kit includes the pattern and the wool. Add your own floss.
Click here to shop.

New Notion!
Mini folding ruler keychain - for all those times when you wish you had a little ruler handy! Click here to shop. We will choose a color for you or put a comment upon check out with your choice.

New pattern!
Tiny Dresden Scrap Sensation
Start with a 2 1/2" mini charm pack and make the mini Dresden plate block then frame it with a pieced border. Choose one of the wire metal hangers and you have just made a cute decoration for your sewing room!
Get the pattern here.
Get the wire frame here.
Get the Tiny Dresden template here (although a paper template is included with the pattern.)
Shop 2 1/2" charm packs here.

Featured GO! Accuquilt!
Go! Sleigh & Snowflakes Because as we all know, we have to begin Christmas sewing in July in order to complete our projects on time! To help you out we've put the Sleigh & Snowflake die on sale ('til Jul 31). Click here for yours.
Back in Stock!
Dust Me Off! Micro fiber fluffy dust mitt for those of you who like a tidy sewing station! Click here to shop.

Veteran's Quilt Project
If you have been sewing blocks and haven't turn them in yet, please drop them off or mail them. We'd like to start assembling quilts!

2023 Retreat Dates!

Registrations will open approx 6 weeks prior to each retreat. Sorry, but we do not accept requests to save a spot or "put me on the list". That way everyone who is interested has the same opportunity to attend.

Next retreat is: Sep 21-24, 2023
Beat the heat! Stay in and quilt!
Carol and Barb

If you've missed any of our previous emails or just want to check a past email for something specific you can view them here in the newsletter archives.
Monday - Saturday 10 AM - 3 PM.
For needs outside of these hours please contact us via the contact page on our website, or via FaceBook, or by calling the shop. 530-934-8116