Here at Quilt Corral we've welcomed June with a wave of activity! Carol is vending at Quilt Bash in Redding, July retreat registration is officially opened to all, and, drum roll please .... It's our anniversary! That's right! We have been in business together for 7 years and it's lucky for you because that means Lucky 7 Anniversary specials. See details below.
Upcoming Events:
Lucky 7 Anniversary deals: June 5-30, 2023. See more below.
Ten Item Tues: Tune in with Carol for Facebook Live every Tues at 3:00 pm. Ten minutes. Ten items (or more).
Check out the weekly list on the home page.
July Retreat: July 20-23, 2023. General registration is now open. See retreat info below.
River Run: Save the Date! Oct 5, 6 and 7.

Block of the Month:
Door Banner of the Month. Perfectly sized to hang on the front door OR inside on the back of a door. Make a different banner each month for a year. Use them yourself or, we think these would be perfect if you have a homebound friend who could use a little cheer each month. Even the smallest apartment has a door that might work for hanging.
Finished size 20" x 36"
Sign up by paying for the first month here. The program begins in Jan 2024 with the April banner. We will charge your card each month in advance. Limited to 12 participants.
Pictured are a few examples of the banners. To see all of them and to sign up click here.
Lucky 7 Anniversary deals - Starts June 5th! Buy 6, get the Lucky 7th for free!
Here's the deal: We've selected 7 categories of products. Buy 6 from a single category and get the 7th in the same category (of equal or lessor value) for free. The categories are as follows:
1. Fabric - buy any 6 yards of regular priced fabiric, get the 7th for free. (Excludes minkee.) Mix and match, does not need to be a single cut from the same fabric.
2. Patterns - buy any 6 patterns, get the 7th for free.
3. Needle Minders - Carol's latest addiction! Jump start your own collection! Buy 6 and get the 7th for free!
4. Thread - Buy 6 spools of thread and get the 7th for free! If you're stocking up on three packs, buy two three packs of thread and select a single spool for free..
5. Zippers - Buy 6 zippers, get the 7th for free!
6. Panels! Ok all you panel lovers, this one is for you! Buy 6 panels and get the 7th (equal or lessor value) panel for free.
7. Stickers - Buy 6 stickers, get the 7th for free! Decorate your insulated cup or notebook or the front of your laptop with 7 cute stickers!
Get a free gift when you shop the anniversary deal - good online or in store.
For online orders, place your order for 7 items, we will rebate the 7th item when we process your order.
Anniversary deals end June 30th.

New Fabrics!
A Walk in the Woods
Grey, peach and black tonal and medium scale prints with unique motifs. Love those birds!
Click here to shop all of A Walk In the Woods
Forest Tales
Lovely color that will remind you of water color. Breathtakingly beautiful animals and foliage in scattered prints and a stripe plus coordinating tonals.
Carol has put together a quick project with the collection.
Click here for the Cinnamon Stick Forest Tales quilt kit.
Click here to shop all of Forest Tales.
Payful Plaids 1/2 yd bundle
At Quilt Corral we think plaid prints make great bindings. Enter Playful Plaids!
This bundle includes a 1/2 yd cut from each of eight different plaids. Perfect to have on hand for bindings, after all, a 1/2 yard is enough to cut binding for all but the largest quilts.
Click here for the bundle.
Click here to shop all of Playful Plaids..
Featured Panels!
Autumn Waltz by Marcus Brothers is all the fall whimsy you love in deep, rich colors.
Click here for the panel.
Click here for the kit with the very cute border of 4" blocks.
Accuquilt users - the 4" Qube makes quick work of cutting all those 4" blocks! Call the shop to order.
Click here to shop the entire Autumn Waltz collection.
Kitty Loves Candy Panel
Cute, bright colors, sweet motifs - it's classic Poppie Cotton!
Click here for the panel.
Click here to see the whole collection.
Call the shop to reserve a Sweet Deilights kit. (We have had so much new stuff arrive we haven't had time to cut kits yet!!)

New Kits!
Union Sqaure Starstruck
Union Square arrived just before we went to press last month and Carol got right on sewing a sample! This project is Accuquilt Friendly!
Click here for the kit.
Click here to see all of Union Square.
Focus on handwork
Salty Sandy Happy Embrodiered dishtowel
If you have to be inside doing dishes, you might as well be able to dream about the beach! Stitch this Salty and Sandy dishtowel for yourself or a friend!
Click here for the pattern.
Click here for toweling by the yard in "coastal blue"

New Notion!
ProSeries Seam Roller
Great for foundation paper piecing or whenever you want to set a seam open without getting up to iron!
Click here to shop.
Creative Grids Rotating Mat
14" x 14" rotating self healing rotary cutting mat. It's new at Quilt Corral!
Click here for the mat.


Featured GO! Accuquilt!
GO! Summer Medley
Just because it's summer! Sand bucket, shovel and flip flops! We have limited inventory of this die! Regular price $59.99. On sale for $49.99.
Click here to shop.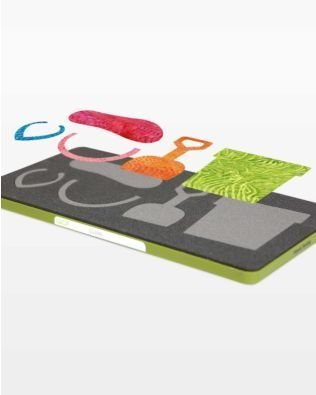 Veteran's Quilt Project
The Willows VFW Aux Post 1770 continues to honor a veteran every month. In April they honored Army Sgt Kevin Triance. He also served in the Calif National Guard and is a Desert Storm/Desert Sheild Veteran. Look at that fantastic quilt!
If you have completed blocks to turn in for our veteran project please drop them off. We will begin assembling blocks soon.
2023 Retreat Dates!

Registrations will open approx 6 weeks prior to each retreat. Sorry, but we do not accept requests to save a spot or "put me on the list". That way everyone who is interested has the same opportunity to attend.

July 20-23, 2023 General registration now open.
$250 for three days of sewing. A non-refundable $75 deposit will hold your place. Make hotel or Rv reservations on your own please.
Click here to register.If we show sold out, call the shop and ask to be put on our wait list.
Click here for the registration form.
Click here for the fairgrounds RV reservation form.
Sep Retreat dates: 21-24, 2023

Come see us and shop our Lucky 7 celebration!
Carol and Barb

If you've missed any of our previous emails or just want to check a past email for something specific you can view them here in the newsletter archives.
Monday - Saturday 10 AM - 3 PM.
For needs outside of these hours please contact us via the contact page on our website, or via FaceBook, or by calling the shop. 530-934-8116