Skip Navigation
Website Accessibility
Quilt Corral Mar 2023 Newsletter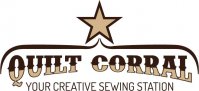 Howdy Quilt Corral Friends!

In March the wind doth blow. But spring is on the horizon so let's celebrate with spring-like items.


Upcoming Events:

March UFO retreat: Mar 16-19, 2023. This event is sold out!

Quilt Rush Shop Hop: April 20-23, 2023. "I spot a quilter". Click here for participating shops and complete details.

Ten Item Tues: Almost every Tues at 3:00 pm. Ten minutes. Ten items (or more). Check out the weekly list on the home page.
Block of the Month:

NEW! Jaye's Bouquet Embroidery BOM
Kick off spring with Jaye's Bouquet BOM! Another of our great finds at Fall Quilt Market, Jaye's Bouquet includes piecing and embroidery each month. We've used the Forget-Me-Not fabric collection for a bright, whimsical look. Barb, our resident handwork guru, loved stitching these unique flowers! We've included a kit of embroidery floss packaged in a keepsake Quilt Corral pouch. The oversized, color pattern sheets make it easy to see stitch placement. Must see in person to truly appreciate the bright, cheerfulness of this quilt!
Finished size: 48" x 60".
Sign up fee $10/month

plus $8.99/m for 12 months.


Limited to 12 participants.
Click here to sign up.




Aunt Sukey's Sampler
Started Mar 1st but we still have a couple spots left. Learn new techniques while making this stunning quilt with Marti Michell Templates (included in the price). Also includes the book Five is Fabulous, filled with other projects that use the same templates.
$25 sign up fee, plus $12.99/m for 15 months.
Click here to sign up.


New Fabrics!
Bee Plaids by Lori Holt
These lovely Lori Holt classics are the perfect for projects that call for cute plaids! Here at Quilt Corral we love plaids and these are no exception! Diagonal plaids, straight set plaids, small plaids, larger plaids, we have them all plus a wide back too! Also included are a few low volume light background prints.
Click here to shop all of Bee Plaids.
Click here for the wide back.
Click here for the Plaid Pines Quilt pattern.


Featured Panel!
Beachy Keen
Ready for the coast? Maybe not, since even some coastal areas have had snow this winter! But you can go there in your mind with this fresh collection of beachy prints in coral, turquoise and sand. Includes a panel of a nostalgic beach scene. Click here to shop the complete collection.




Featured Accuquilt Die
Go! Dancing Umbrella
Because ... in March the wind doth blow making way for April Showers - get yours now while it's in stock!
Click here for the die.



Focus on handwork
Put away the light box! We have iron-on embroidery transfers for you! Add a little stitching to anything with these iron on transfers.
Click here for Ex Libris
Click here for Lucky Penny




New Notions!
Embroidery scissors so elegant they come in their own storage case! This German made scissor set will have you wondering why you ever settled for other scissors.
Click here to treat yourself!



New pattern!
Everlasting by Suzn' Quilts
You didn't actually think we would get off the Tiny Tree a day that quickly did you? Carol keeps finding more ways to set your tiny trees together as in this pattern featuring trees in two sizes.
If you made a pile of tiny trees last year (or this year, or next year) this is a great project to use them in.
Click here for the pattern.
This pattern uses the Tiny Tree and the Mini Tree (6" x 9") templates.



Back in Stock!
Prym seam rippers
Best value for quality in seam rippers. How many of you keep on using your old favorite seam ripper even long past it's "best by" date (meaning when it's so dull it no longer rips but tugs instead.) Grab a new one today at this every day value price of $4.69. Click here to shop.



Veterans Quilt Project News
You are the best! Thank you for sewing in support of veterans. You have made blocks, volunteered to quilt, and even donated a few completed quilts in support of the VFW Auxiliary's Veteran of the Month program. We are pleased to share that two quilts have already been gifted to the Jan and Feb Veterans Of the Month. Keep those blocks coming. We will be planning a community sew day in the near future.
Feb honoree Kathleen Balser, US Navy Veteran
Jan honoree Laurence Olsen, US Army Veteran.



On Sale!
When Carol can't find a place to hang a new pattern or notion she puts something on sale to make room so check regularly.
Click here to see our everyday sale room with clearance prices.

2023 Retreat Dates!

Registrations will open approx 6 weeks prior to each retreat. Sorry, but we do not accept requests to save a spot or "put me on the list". That way everyone who is interested has the same opportunity to attend.


Mar 16-19, 2023
(sold out!)


July 20-23, 2023



Sep 21-24, 2023

The wind may blow but we can still SEW!
Stitch on!

Carol and Barb

March retreat: Mar 16-19, 2023
Quilt Rush: April 20-23, 2023

If you've missed any of our previous emails or just want to check a past email for something specific you can view them here in the newsletter archives.

Monday - Saturday 10 AM - 3 PM.
For needs outside of these hours please contact us via the contact page on our website, or via FaceBook, or by calling the shop. 530-934-8116