To market, to market!
We have been to International Quilt Market
! We rarely get time together where we can brainstorm ideas for the shop. After three days together in Houston we have awesome new products and programs to bring to Quilt Corral. Stay tuned as products will be arriving over the next several weeks.

River Run Shop Hop

Thank you to everyone who came out for the return of the River Run Shop Hop
.
The winner of our in-store prize basket was Elaine Szymanski. Congratulations Elaine!!
It was such fun to see old friends and also to meet so many new people. Thanks for including a stop at Quilt Corral.




Upcoming Events:


Twelve Gifts of Christmas: Nov 11-12, 2022. The count down is on! Four Shops. Three Gift or decorating ideas at each shop. Two days. Once a year. It's now! Bonus! Also see what's new from Quilt Market!!

Naughty or Nice Sew-In: Dec 7-8, 2022. See below for details.

UPDATED!! Ten Item Tues: Tune in with Carol for Facebook Live every Tues at 3:00 pm. Ten minutes. Ten items (or more).
It's so exciting to announce that we have an upgraded experience for you! Thanks to the 10 minute meeting we had with our server guys at quilt market(no pun intended, it really only took them 10 minutes to teach us) the weekly list on the home page is now a series of photos with direct links. Click the photo to shop. If you want an item, put it in your shopping cart. Upon check out tell us if you'd like shipping or prefer store pick up. Easy peasy. Click here then scroll down until you see all the pretty pictures!

Facebook users, click here to go to Carol's Nov 1 event where she showcased some of our new products from quilt market.


New on the website
We are now featuring a few new items on the home page of our website. Look for the section titled "Featured Items". Click on the photo to jump to the item. Put it in your shopping cart. Be the first to get what's new!

Naughty or Nice Sew-In
Do you need a little private sewing time to finish Christmas gifts? Do you wait to start sewing until you know who has made the nice list? Are you desperate for a block of uninterrupted time to sew during the holiday rush? Welcome to the Naughty or Nice Sew-In! Two days of sewing time!

Click here for the flyer with more details.
Limited space is available.

To sign up do two things:
1. Click here to pay your registration fee.
2. Click here to purchase your project box with precut kits for all six make and take projects.
Complete both steps and you're registered!

Optional: Preorder a Carol designed T-shirt! Click here.

This event will take place at First United Methodist Church - just one block from the shop.

New Fabrics!
Spirited

by Northcott


Spirited is another great western line with a painterly look. At first glance you might think these fabrics are batiks but nope, they are beautiful printed cottons. Includes awesome tonals, a panel, a stripe and a stunning panel.

Click here to see all of Spirited. But if you love it don't delay as this is selling fast - some of the prints are already sold out.


Click here for the Beauty in Motion kit.

Click here for the Run With Me pattern that uses the panel.



Cuddle Colors Just Arrived
60" and 90" wide Cuddle/Minkee is perfect for backing. Check out these restocked colors and get them while the bolts are fat!
Click here for all Cuddle/Minkee.




New Kits!
Autumn Shadow Box. This lap quilt kit showcases the softer side of fall. We have all the fall things you love - pumpkins and leaves in orange, adobe and muted greens set against a light taupe background giving the over all look a lighter and softer feel than most fall quilts. Perfect size for throwing over the arm of your chair and snuggling under as Mother Earth dials back the temperatures. The kit includes alternate cutting instructions making it a snap to make. This kit is Accuquilt Friendly!

Click here for the kit.
Click here for the Shadow Box pattern.
Click here for the Fall Frolic fat quarter box.
Click here for the Fall Frolic collection. You'll need 3 yds for backing.




Wyoming Star Table Runner kit
Make this table runner in one day! Our version uses reproduction fabrics in navy, deep red, and forest green with two shades of each color set against a cream background. Perfect on Barb's kitchen table! (Note from Barb, please buy up these kits fast so I can have the sample back to use in my house!!)

Click here for the kit.




Cats and Dogs Christmas Quilt Kit
Make a generously sized lap quilt with a nod to our furry friends! Traditional red and green plus fun turquoise and black prints are set against a icy white fairy frost background. There's still time to make this quilt for the upcoming holiday! We put sparkly turquoise cuddle (aka minkee) on the back! Bonus! The pattern booklet (included) has the instructions for this quilt plus 7 more quilt projects!

Click here for the kit
Click here for the glittery cuddle in turquoise for the back.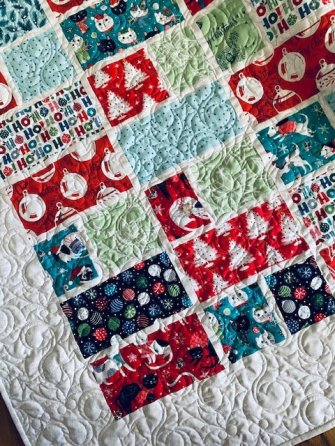 Focus on handwork
"Peaceful" is a 10" x 16" oval wool candle mat by The Woolen Needle. The kit includes the wool and cotton backing. Add your own floss.
Shop here for the Peaceful candle mat.




New Notion!
The Original Ugly Thimble
Custom fit this clever leather thimble. We've had requests for thimbles but they are like shoes - they all fit a little differently and we didn't want to commit a whole display wall to thimbles. Then at quilt market we discovered The Original Ugly Thimble. It's a leather thimble designed to fit your finger exactly - fit it to whichever finger you use for pushing the needle.
Click here to get yours.




Focus on Accuquilt!
Accuquilt Friendly patterns are coming back. Look for this symbol on store samples.


Out of our area? Ask us about having your product shipped to you directly from Accuquilt for a small fee.

Little Stocking Die
We've seen so many clever uses for this die. Make 24 stockings and string them on a garland as an advent calendar. Use them on the holiday table to hold silverware and napkin. Fill them with small sewing notions for your quilting buddies.
For Little Stocking Die click here. If sold out call the shop to order.



For all in stock Accuquilt inventory click here.

Back in Stock!
Chenille It!!
Carol has been sewing Chenille on everything! Use it to embellish quilts, on the edges of soft books in lieu of finishing the edges, around applique shapes. If you can't think of what to use it for, just ask Carol! And great news! All colors are back in stock! Shop now for best selection.
Click here for Chenille It!
Click here for the Kitty Corn Panel Carol used on her shirt.
Click here for soft books.

Here is a little collage of just a few of the things we have used Chenille It on.



Community Service Opportunity
We've received a request from our local veteran's assistance office. Each month they honor a local veteran of the month. (Barb's dad was honored a few months ago). They would like to present a Quilt of Valor at their monthly ceremony. Will you be willing to partner with Quilt Corral in making quilts for Veterans?

To kick off this new program, this month we are asking for donations of 12" blocks, any pattern in red, cream/white/or tan and blue fabrics. The blocks should measure 12 1/2" x 12 1/2" unfinished. You may drop them off at Quilt Corral or mail them to us at 245 W Wood St, Willows, CA 95988. Thank you in advance for being a part of this worthwhile community project.

Click here to see free Quilt of Valor block patterns.

Halloween ON SALE!!
That's right! We are putting Halloween on Sale! 30% off. Stop in the store for best deals. Sale prices good until Nov 30, 2022. Click here to shop Halloween deals.

Our Tiny Tree A Day Challenge


Continues all year!

You may join at any time! Click here for the template set. Click here

to download the pdf with guidelines and tips.

Each month Barb and Carol take turns posting ideas on our social media pages.

Click here for Tiny Trees Template Set and pattern.


2023 Retreat Dates!

Registrations will open approx 6 weeks prior to each retreat. Sorry, but we do not accept requests to save a spot or "put me on the list". That way everyone who is interested has the same opportunity to attend.


Mar 16-19, 2023
July 20-23, 2023
Sep 21-24, 2023

We are grateful for our loyal customers. Thank you and Happy Thanksgiving to you and yours.

Carol and Barb

Twelve Gifts of Christmas: Nov 11-12, 2022
Halloween On Sale 30% off until Nov 30, 2022
Naughty or Nice Sew-In: Dec 7-8, 2022

If you've missed any of our previous emails or just want to check a past email for something specific you can view them here in the newsletter archives.

Monday - Saturday 10 AM - 3 PM.
For needs outside of these hours please contact us via the contact page on our website, or via FaceBook, or by calling the shop. 530-934-8116