It's time for the golden glow of autumn in the valley. Eventually the days will cool down and the last of the garden will be put to rest then you can sew to your heart's content.

Thank you to everyone who participated in the North State River Run Shop Hop. We enjoyed seeing so many new faces at Quilt Corral and welcoming back many familiar faces too. We hope you enjoyed your experience.

The River Run Grand Prize Winner is: Jill Maughan! Congratulations Jill!

The winner of our overflowing prize basket is: Elaine Szymanski!!
Congratulations Elaine!



(For the Kansas Troubles table runner pictured behind the basket click here.)


Upcoming Events:


Ten Item Tues: Facebook Live every Tues at 3:00 pm. Ten items, ten minutes.


2023 UFO Retreat Dates: Mar 16-19, Jul 20-23, and Sept 21-24. Registration opens about 6 weeks before each event.

Twelve Gifts of Christmas: Nov 11 & 12. Four Shops. Three Christmas projects or gift ideas at each shop. More details coming soon.

Ten Item Tuesdays


Join Carol every Tues at 3:00 PM for a quick, ten minute Facebook Live shopping experience. If you see an item you like go to our home page and scroll down until you see the list of ten items. Click on the item to view. If you want to purchase, add the item to your shopping cart and complete your order as an online purchase. Select ship or store pick up upon check out.

It's fast and fun and if you don't do Facebook you can still see the weekly featured items by checking the homepage list!

Stock up on Solids Sale!!!
Do you ever wish you had a whole bolt of solid white on hand? Or black? Or grey? Here's your chance. Preorder and prepay for 10 yd bolts at a discounted price by Oct 15, Delivery early Nov depending on shipping. For complete details click here to download the pdf.

New Fabric!
Moonbeams and Rainbows

Unicorns and Rainbows for all the little girls in your life. Bright pastels includes to different stripes, small scale prints and a panel.

Click here

to see all of the collection.






Peppermint Christmas
If traditional red and green is your Christmas vibe, don't miss Peppermint Christmas. It has just arrived and is selling fast. We have a child's apron panel, an advent calendar panel, plus a super cute block panel. We have compiled two different kits for quick Christmas sewing projects.

Click here to see all of Peppermint Christmas.
Click here for the Kits.
Click here for the panels.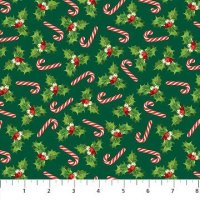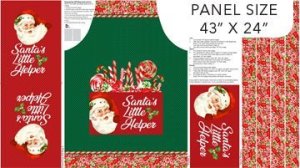 Featured Panel!
Farmyard
Make this napping sized quilt by starting with a panel then fussing cutting farm animal blocks to create the pieced border, finish with a border of rustic barnwood. We've included Marti Michell's Fussy Cutter ruler in the kit.
Finished size 54" x 72"

Click here for the quilt kit.
Click here for the panel.
Click here for the fabric collection.
Click here for the Fussy Cutter ruler.




New Quilt Kit
Pine Ridge Quilt Kit featuring Sundance fabric collection. Makes a 39" x 42" quilt. Perfect for a little one or just the right size for an accent wallhanging or lap robe.

Click here for the kit.
Click here to see all of Sundance.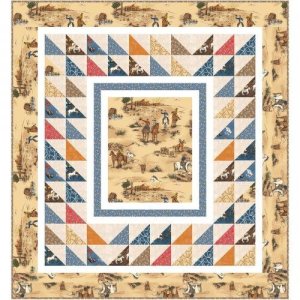 Focus on handwork

Sue Spargo Wool pincushion kits!

Kit includes precut wool appliqiues, backing fabric, lining fabric, and crushed walnut shells to make a 5" x 5" finished pincushion. Add your own floss.
Choose from House, Tree or Butterfly (not pictured).

Click here for the kits.




Rooster Dishtowel Kit
Kit includes fabrics as shown, Wonder under fusible, dishtowel and pattern for fusible applique. Iron the pieces in place then blanket stitch around the edges by hand or machine.

Click here for the Rooster Dishtowel Kit.




New Notion!

Carol's Box Corner Ruler

'Tis the season for bag sewing! If you make zippy bags, purses and totes for gifts, this handy little notion is terrific for marking boxed corners. Even those of you who have mastered corner boxing will love this gadget.

Click here to shop for Carol's Box Corner.



New pattern!
Annie's Wreath. Make it two colors (Barb's favorite!), three colors or scrappy (Carol's favorite!). Pattern includes instructions for 68" x 68" quilt or 24" x 24" quilt or pillow.


Click here for the pattern.

Back in Stock!
Log Cabin Ruler by Marti Michell
Start with a 10" precut squares. Logs finish 1 1/4". Includes the ruler with directions AND a project pattern booklet.

Click here to shop.

Our Tiny Tree A Day Challenge


Continues all year!
You may join at any time! Click here for the template set. Click
here
to download the pdf with guidelines and tips.
Each month Barb and Carol take turns posting ideas on our social media pages.

Click here for Tiny Trees Template Set and pattern.


2023 Retreat Dates!


We have reserved our space at the Fairgrounds for the following dates!
Registrations will open approx 6 weeks prior to each retreat. Sorry, but we do not accept requests to save a spot or "put me on the list". That way everyone who is interested has the same opportunity to attend.


Mar 16-19, 2023
July 20-23, 2023
Sep 21-24, 2023

Stitch on!!
Carol and Barb

If you've missed any of our previous emails or just want to check a past email for something specific you can view them here in the newsletter archives.

Monday - Saturday 10 AM - 3 PM.
For needs outside of these hours please contact us via the contact page on our website, or via FaceBook, or by calling the shop. 530-934-8116