Skip Navigation
Website Accessibility
Quilt Corral Sep 2022 Newsletter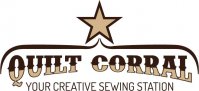 Howdy Quilt Corral Friends!

Last Rose of Summer!

Maybe not yet for those of you in N. Calif, but for Barb in Kansas, it's here - the last of the roses. But with the end of summer (and the roses) comes Volleyball and Carol's Varsity Girls are rocking it!

In this issue we have new fabrics, (of course!) a great book of scrap quilts, a fun notion, cute patterns plus Facebook Live and shop hop announcements! Save the dates for our 2023 retreats.


Upcoming Events:


Sept UFO RV Retreat: Sept 22-25. This event is SOLD OUT.

North State River Run Shop Hop: Sept 29-Oct 1.

Twelve Gifts of Christmas Mini Shop Hop: Nov 11 & 12, 2022. Four shops, three gift ideas at each shop.

Ten Item Tues: Facebook Live is back every Tues at 3:00 pm. See more below.


Last Call!!
Seasonal Table Mat Series Embroidery BOM!
If you love small seasonal projects and are an embroidery fan this is the project for you! Each table mat includes carefully curated fabric for the scrappy checkerboard center, the background fabric for the embroidery and the binding. Monthly kits come with the giant rick rack trim and the tiny buttons to make a charming seasonal table topper. Bonus! We've also included backing! (Add your own floss.)
Finished size is approx. 10 1/2" x 17"
$26.99/month for 6 months
Halloween, Christmas, Winter, Valentine's Day, Birdhouse and July 4th.
Begins Sept 2022
Limited to 13 participants.
Click here to pay for month 1 then call the shop 530-934-8116 with your credit card info for auto billing.




Ten Item Tuesdays
Join Carol every Tues at 3:00 PM for a quick, ten minute Facebook Live shopping experience. Don't do Facebook? No problem! Each Tues the list of items will be posted to the Quilt Corral home page. It's a way we can stay in touch and show you what's new or hot or on sale without wading through an hour long show. Here's how it works:
Tune in on Facebook at 3 pm on Tuesdays.
If you see an item you like go to our home page and scroll down until you see the list of ten items.
Click on the item name to view.
If you want to purchase, add the item to your shopping cart and complete your order as an online purchase.
Select ship or store pick up upon check out.


It's fast and fun!

New Fabrics!
Chocolate Covered Cherries

by Kim Diehl for Henry Glass.


Just when you think Kim Diehl's fabrics might be looking like repeats along comes Chocolate Covered Cherries!! Warm pinks, browns, and creams in reproduction style prints. (If you think Barb had anything to do with Quilt Corral getting this collection you would be right!) There will be kits coming later but this has just arrived and we couldn't wait to show you!

Click here to shop the entire collection.




Lower the Volume by Blank
White backgrounds with small motifs. Great for when you want a little more than white in the background. Carol loves using these prints in her scrap quilts. We've restocked some that were previously sold out and added a few new prints.

Click here to shop all of Lower the Volume.




New Book!!
Scrappiness is Happiness
Do you expect a lot of bang for your buck when you buy a book? If you love working from your stash and you enjoy making scrappy quilts, here's one for you! Notice how the quilts on the cover are made with Low Volume white prints? Hmm. We didn't even plan that!!

Get the book here.
Get the low volume prints here.




Featured Panel!
Winter Joy
Retro Christmas. This panel is going fast!
Click here to get the Winter Joy panel.

Click here to see the coordinating prints.




New Kits!
Winter Joy quilt kit
This fabric collection came in and has been literally flying out the door! If you love traditional red and green for your Christmas quilts, and you adore retro Christmas images, here's a chance for you to get it all in this kit.

Finished size is a generous 68" x 82.

Click here to shop for the kit.
Click here to see all of Winter Joy.




Be Mine Zipper Pouch
Part of our grab and go kits, we've included the pattern, pre-cut 2 1/2" squares, a red zipper and red for the heart, lining and bottom. The design makes a larger than usual zipper bag (maybe we should say "taller") and the construction results in a flat bottom that stands up well.

Click here for the heart zippy bag kit.




Focus on handwork



Everything Nice Ornament Kit


Sometimes our vendors send us free patterns (in hopes that we will stock them at Quilt Corral!) When we recently re-ordered dishtowel patterns from Bare Roots, this clever ornament pattern was tucked in the box. What makes this ornament unique is it's roundness. Applique the woolfelt to orange peel shapes, then assemble into the ball. Kit includes the pattern with all of the ornament options and enough woolfelt to try out one of the designs.

Click here to get the kit.




New Notion!
Pin Alert!
A stand up magnetic pin cushion, the Pin Alert will keep your pins at your fingertips. Doubles as a caution sign for next to the iron to remind you when it's hot - especially when sewing with friends and at retreats!

Click here to get yours!


New patterns!

Do you collect Mini Charm packs (2 1/2" x 2 1/2" squares) wherever you go? We have a new display at the store with little buckets filled with Mini Charm packs and a plethora of patterns to use them with!
Click here to see the Mini Charm pack choices currently in stock.

Click here to see all the super cute patterns that use Mini Charms!! See below for images of a few of the patterns!!




Back in Stock!

Oliso Travel Iron
A favorite for retreats, or even for an iron near you sewing chair while you watch TV. If hot is what you're after, this is the iron you are looking for!

Click here for color options.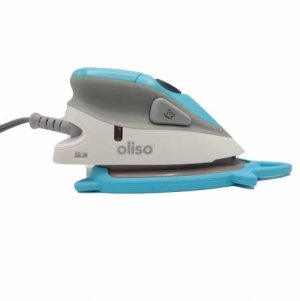 Our Tiny Tree A Day Challenge



Continues all year!

You may join at any time! Click

here

to download the pdf with guidelines and tips.

Each month Barb and Carol take turns posting ideas on our social media pages.

Click here for Tiny Trees Template Set and pattern.



How about an optional pattern that uses the Tiny Tree Template? Fall Colors puts a new spin on our favorite Tiny Tree! Scraps work great on this quick project!

Click here for the pattern. (If you don't have the Tiny Tree Template set, the pattern includes a paper template.)


Sept 2022 Retreat!!
Our UFO Retreat Sept 22-25, 2022 at the Glenn County Fairgrounds in Orland, CA is SOLD OUT. If you are registered and plan to come in an RV click here for the Glenn County Fairgrounds RV registration form.
If you are registered, balances are due by Sept 1. Click here to pay online.
Carol designs an optional T-shirt for each retreat. If you are registered and would like a T-shirt we need your order by Sep 5, please! Click here to order a t-shirt online!

2023 Retreat Dates!


We have reserved our space at the Fairgrounds for the following dates!
Registrations will open approx 6 weeks prior to each retreat. Sorry, but we do not accept requests to save a spot or "put me on the list". That way everyone who is interested has the same opportunity to attend.


Mar 16-19, 2023
July 20-23, 2023
Sep 21-24, 2023

Happy Last Rose of summer sewing!
Carol and Barb

Sept Retreat: Sep 22-25, 2022
North State River Run: Sept 29-Oct 1, 2022
Twelve Gifts of Christmas: Nov 11 & 12, 2022

If you've missed any of our previous emails or just want to check a past email for something specific you can view them here in the newsletter archives.

Monday - Saturday 10 AM - 3 PM.
For needs outside of these hours please contact us via the contact page on our website, or via FaceBook, or by calling the shop. 530-934-8116