Summer! It's Summer!!

Barb's favorite time of year! Carol likes summer too but she doesn't like the heat. Barb, on the other hand, will take a hot day in July over a cold Kansas winter any day!
On that note, let's talk summer sewing and Christmas in July.
We have new patterns and kits for fun summer sewing. And it is July so that means Christmas fabrics are arriving.


Upcoming Events:


July UFO RV Retreat: July 28-31. SOLD OUT!


Sept UFO RV Retreat: Sept 22-25. Registration opens in August.

North State River Run Shop Hop: Sept 29-Oct 1.

Important announcement: If you are enrolled in any of our BOM programs or keep a credit card on file with us please call the shop to update your info. We have changed credit card processors and need additional info in order to keep your card on file. Thanks for helping us with this transition.

Block of the Month


"Iris Dreams BOM"
We have a few openings in the coral colorway. The purple is sold out.
Finished size: 84" x 84"
$17.99/month for 7 months

Sign up by clicking here then call the shop with credit card info for auto billing. 530-934-8116.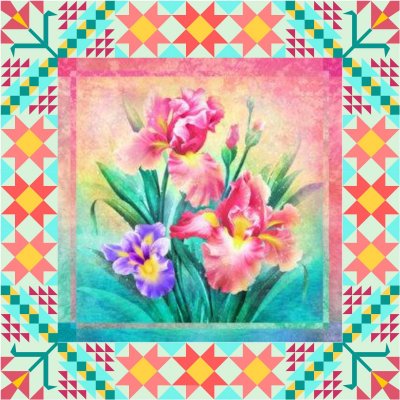 Dresden Village BOM

We have one spot left in this BOM program
.


Sign up here. Then call the shop with credit card info for auto billing.
New Fabrics!

Nicholas, by J Wecker
Just in!!! For all who adore the cleverness that is J Wecker, get Nicholas now! Typically these collections sell out quickly. We have three panels and the entire collection or coordinates.

Click here to shop all Nicholas.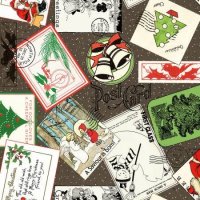 Featured Panel
Howdy Christmas! by Northcott
Traditional red and green plus all things cowboy: I'm talking boots, horseshoes, hats, ropes - all of it! That's what Howdy Christmas is. We have the Christmas stocking boot panel, the tree skirt panel (one of our clever customers is making it into a table topper for her round table) the tree panel and kit.

Click here to shop all Howdy Christmas.




New Kit!
All Good Things are Wild and Free
Fusible machine applique. Gigantic blocks. 3" sashings and 5" borders. What does all that mean? Quick work to make a big quilt! We are in love with these forest friends set in trendy colors of grey and turquoise. Kit includes fabrics as shown and full size paper patterns for the large animals.
Finished size approx 70" x 90".

Shop here for the kit.




Focus on handwork
Deck the Boughs by Kathy Schmitz. Make 12 embroidered ornaments. The kit has EVERYTHING needed. That's right, we've gathered all the unique supplies for you and put it all together into one kit. Includes the pattern, fabric and floss for embroidery, precut batting circles, 2" wooden circle disks, precut scalloped woolfelt backing, baker's twine, and jingle bells. If you love embroidery you will enjoy the way Kathy introduces less common stitches in clever ways, such as rows of chain stitch to fill in larger areas.

Click here for Deck The Boughs Kit. (If the website shows sold out, please call the shop. We have more kits but are waiting on patterns.)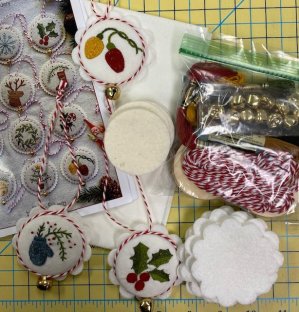 New Notion!
Quilt Binding Tool
If you struggle with connecting the tails of your binding with a seam, this ruler might be just the thing you need. It has markings for 2 1/4" and 2 1/2" cut size binding strips. The little 1/4" cut out is useful for marking the corners for mitering in exactly the right spot. It's new and we have it at Quilt Corral!!

Click here to shop for the Quilt Binding Tool.




Sew Daisy by Laundry Basket Quilts
You're not going to believe what a nifty notion this is! Snap a daisy onto each end of a spool of thread. You just created a needle case! Think about when sewing on bindings, or for your hand applique or embroidery. You need a needle handy! Note: Barb wants this for sewing on airplanes.

Click here for all color options.




Summit Storage Boxes
If you've been in the shop recently you may have seen these adorable storage boxes. Measuring 7" x 7" x 1 1/2" high, they are perfectly sized for 6 1/2" quilt blocks. Or use them to keep all the parts to a small project together. Or what about storing smaller notions that tend to sift to the bottom of the drawer. Or a summer sewing project! The list goes on ...

Click here to shop all options.




Summer Sewing!
Posh Pouch pattern. Love making zippy bags? Teaching someone how to sew a zipper this summer? This bag pattern is great. Simple, straightforward directions from one of our favorite designer friends, Susan, at Dragonfly Fiber Art.
Barb sewed up a couple samples in these bright, summery fabrics.

Click here for the pattern.




New pattern!
Fall Colors, just in! Designed for the Tiny Tree template! Just can't think about Christmas sewing yet? How about a cute fall project?

Click here for the Fall Colors pattern.




Our

Tiny Tree A Day Challenge

continues all year!

You may join at any time!

Click here for the template set.

Click here

to download the pdf with guidelines and tips.






Sept 2022 Retreat!!


General registration will begin next month for our UFO Retreat Sept 22-25, 2022 at the Glenn County Fairgrounds in Orland, CA. Check the home page after August 2 for details.



Get your summer sewing on!
Sewing in a swimsuit is perfectly acceptable!

Carol and Barb

July Retreat: July 28-31, 2022
Sept Retreat: Sep 22-25, 2022
North State River Run: Sept 29-Oct 1, 2022


If you've missed any of our previous emails or just want to check a past email for something specific you can view them here in the newsletter archives.
Monday - Saturday 10 AM - 3 PM.
For needs outside of these hours please contact us via the contact page on our website, or via FaceBook, or by calling the shop. 530-934-8116