Car Pool Poker at the Quilt Corral!
Starting June 6th: Visit Quilt Corral and draw a poker chip for a discount. Discounts vary by chip color. Compare discounts with everyone in your car pool. All passengers redeem the highest discount drawn among those in your car pool. For example: Barb and Carol go shopping. Barb draws a 10% off chip. Carol draws a 25% off chip. We both get the 25% discount. Sound fun? Hurry in! Car Pool Poker ends June 30th.



Upcoming Events:

July UFO RV Retreat: July 28-31. This retreat is sold out. See below for final payment info.

Sept UFO RV Retreat: Sept 22-25, 2022. Registration will open in August.

Fall Shop Hop: Sep 29, 30 and Oct 1. Save the date for a new event! It's a north valley Fall Shop Hop - Hop along the river and visit a string of shops including, of course, Quilt Corral. Details will be posted soon on the home page and in the July newsletter.

Quilt Rush 2023: This event is moving back to April! Save the dates for 2023! April 20-23, 2023.

Quilt Rush - After the Rush
Thank you to everyone who came out for Quilt Rush 2022. We always enjoy seeing our friends from nearby and from afar. See all the winners posted here.
Congratulations to Quilt Corral winners:
Wanda Beach, Shirley Wilkendorf, Jan Mills and Lisa Henry. And our Basket winner was Carlene Raczynski. Winners have 6 months to claim prizes.

Firelight
Our Quilt Rush 2022 pattern, Firelight by Villa Rosa designs. finishes 44" x 55". Why we love this size:

Barb's quilt guild in Kansas makes lap quilts for wheelchair bound and home bound in her community. This size is small enough that feet and wheels don't get caught up in the quilt.

Carol loves the size for vignettes on her porch or draped across the back of a chair. The smaller size shows off color and design better than some larger quilts.

We both love the size for baby quilts. Perfect for tummy time!

If you collected fabrics from each shop during Quilt Rush you should only need to add 1 yard of background fabric and 1/2 yard of binding fabric to complete our design. Click here for a few of our tone on tone background prints.

Didn't make it in during Quilt Rush? You can still get our free pattern! Just order any item from this newsletter and when you check out leave a comment that says "Free Quilt Rush pattern" and we will include the pattern with your order. Select in-store pick up or shipping.

Barb's Way/Carol's Way
We used our Quilt Rush pattern, Firelight, and the colors of this year's theme, Best in the West, and created two versions of our quilt. We still have a few kits left.
Click here for Barb's Way kit.
Click here for Carol's Way kit.

Barb's Way in reproduction prints:



Carol's Way in Western prints:



Did you get one of these kits during Quilt Rush and need backing? It takes 3 yards.
Click here for the Home on the Range collection Carol used.
Click here or here for backing for Barb's way.

2022 Block of the Month

"Iris Dreams BOM" Delayed start date!
A Quilt Corral Original, this BOM will run for 7 months and includes the 60" square center panel. Sew the border blocks together as you go so by the time you complete the last month your borders will be ready to sew to the gorgeous center panel. Limited spaces. Originally scheduled to start June 1, 2022, due to unanticipated delays, this program will now start in July.
Finished size: 84" x 84"
$17.99/month for 7 months

Sold out in the purple colorway. We still have a few openings in the Coral colorway.
Sign up here then call the shop 530-934-8116 with credit card info for auto billing.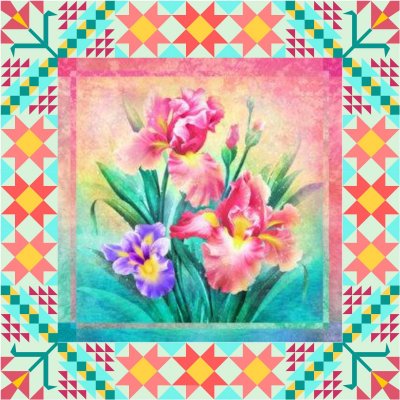 Dresden Village BOM -Delayed start date
Do you love little stuff? We fell in love with this pattern by Suzn Quilts and are offering it as a BOM in colors from our newest basics: Sparkler, along with a variety of eight different low volume background prints. Your $25 sign up fee helps offset the cost of the full pattern, three template sets, all of the grey fabric and the black fabric for the blocks which you will receive in the beginning. Receive background fabric and one color of Sparkler to make a complete set of blocks each month. See picture below.
Limited to 12 participants. Sign up here. Then call the shop to sign up.
Originally set to start June 1, 2022, due to unanticipated delays this program will now start July 1, 2022.



Dresden Village - Make a set of these adorable blocks in a different color each month. The large Dresden plate block is 10" x 10" (to give you an idea of the block sizes.)




New Fabrics!
Patriotic every which way!! We are well stocked for your summer sewing!
Click here to shop patriotic fabrics.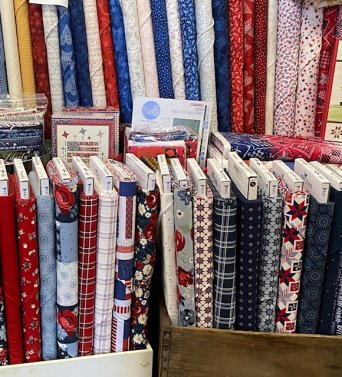 Click here to shop the Americana collection.




New Kit! Liberty is a fun flag quilt that uses a mix of prints from different collections. Click here for the Liberty quilt kit. Finished size is 70" wide by 45" high.




Good Vibes
It's bright. It's cheerful. Perfect for totes, zippy bags, aprons and little girl's dresses, not to mention quilts! Or use it for a super fun insulated lunch bag! Plays well with Sparkler!

Click here to shop all of Good Vibes.




Click here for the June Tailor insulated lunch bag kit.
Click here for Sparkler.

Featured Panel
Here's an awesome book for panels. Instead of using the specific collection showcased, we put together kits using panels we had in inventory.
Click here for the book with instructions for four quilts and two table runners.




Click here for our exclusive Birds and Trees kit. (Book included with the kit.) Finished size 48 1/2" x 60 1/2"




Click here for yardage of the beautiful birds.


Click here for our Four Star Western Quilt kit. (Book included with the kit.) 70 1/2" x 78 1/2"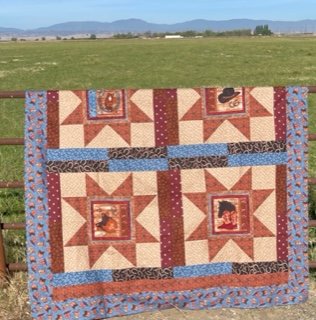 Christmas Horses Panel
Granted, it's a little early for Christmas, but we LOVE how this panel sewed up into this project! Click here for the Hay It's Christmas Quilt Kit.




Featured project: APRONS!
We have gone crazy for aprons at Quilt Corral!! Many of them save time by starting with a panel! Prefer to line your aprons? No problem, we've selected a coordinating print for the featured aprons. Get 1 yard for any full apron or 1/2 yard for the skirt apron.

Farm House Apron in Tula Pink's Forbidden Fruit Snacks/Turquoise.
Click here for the kit.
Click here for lining fabric.
Click here for the pattern.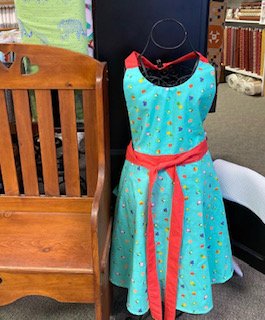 Mother's Cupboard
For those who prefer a half apron.
Click here for the kit.
Click here for lining fabric.




My Hero Wears Cowboy Boots Western Apron
Start with a panel. Quick to sew!
Click here for the kit.
Click here for lining fabric.




Lori Holt Cook Book Home Dec Apron
Printed panel. We only have two left in stock.
Click here for the panel.
Click here for lining fabric.




Black Cat Capers Apron, Oven Mitts and coasters
Everything is printed on one panel. We only have three left!
Click here for the panel.
Click here for lining fabric. Or here to shop all Black Cat Capers fabrics.




Merry Little Christmas
Printed panel with ribbon candy ties!
Click here for the panel.
Click here for lining fabric.




Focus on handwork
Our embroidered dishtowel of the month has concluded with the June towel so these charming designs are now available as stand alone patterns. Get the big 30" x 30" flour sack dishtowels as singles or as four packs. We also have a few leftover full kits that include the pattern, dishtowel and floss.

Giddy Up! A Quilt Corral Fav!



New design! Life is Better with Sprinkles. This pattern was not part of the towel of the month program.



Click here to shop all Bare Roots embroidered towel patterns.
See them all on display at the store!


Click here for towel kits. Use the drop down arrow to see available designs.


Click here for single towels.
Click here for four packs.



Windsock Kits!
These kits include colorful strips of UV protected flag fabric, the pattern by Gypsy Quilter and the pop up hardware, hanging hook and interfacing to make a colorful windsock. We've packaged it with everything you need except thread! Two designs, extra flag colors are included to customize your color choices.

Click here to shop for the windsock kit.
Click here to shop all Gypsy Quilter pop up projects and hardware.




Back in Stock!!
Tiny Tree Templates
We sold out of our Tiny Tree Template sets on day one of Quilt Rush but they are now back in stock!
You may join the Tiny Tree a Day challenge at any time! Click here for the template set. Click here to download the pdf with guidelines and tips.




Back in Stock!!
Wool Pressing Mats 18" x 24"
Click here to shop.

New and they are super cute!
Glam bags!
Click here to shop all Glam Bags.


July 2022 Retreat!!
"Oh My Stars!" This event is sold out however, if you have a balance due this is your reminder that final payments are due by July 1, 2022 for the UFO Retreat July 28 -31, 2022 at the Glenn County Fairgrounds in Orland, CA. We once again have a waiting list so we appreciate your prompt payment.

Click here for online payment of your balance of $150 due by July 1. If you owe a different amount, please call the shop to pay.

Click here for the Glenn County Fairgrounds RV reservation form, if needed.




Carpool to Quilt Corral and get your poker chip discount!
Carol and Barb

July Retreat: July 28-31, 2022

If you've missed any of our previous emails or just want to check a past email for something specific you can view them here in the newsletter archives.

Monday - Saturday 10 AM - 3 PM.
For needs outside of these hours please contact us via the contact page on our website, or via FaceBook, or by calling the shop. 530-934-8116