S
o many fabrics, so little space!

We need your help! Fabrics that we ordered months ago continue to arrive in great batches! We are running out of space. Please come and buy it!


Upcoming Events:


Quilt Rush May 11-15, 2022

:

"Best in the West! Wanted: All Quilters!"

Visit the Quilt Rush website for the most up-to-date info.

http://www.quiltrush.org/



Download our Shop Hop shopping list by clicking here. Fill it out and bring it with you as you Quilt Rush from shop to shop.

UFO RV Retreat: July 28-31. See below for registration info.
2022 Block of the Month


"Iris Dreams BOM"
A Quilt Corral Original, this BOM will run for 7 months and includes the 60" square center panel.

Sew

the border blocks together as you go so by the time you complete the last month your borders will be ready to sew to the gorgeous center panel. Limited spaces.

Starts June 1, 2022.
Finished size: 84" x 84"
$17.99/month for 7 months

Update: Sold out in the purple colorway. We still have a few openings in the Coral colorway.
Sign up by calling the shop 530-934-8116.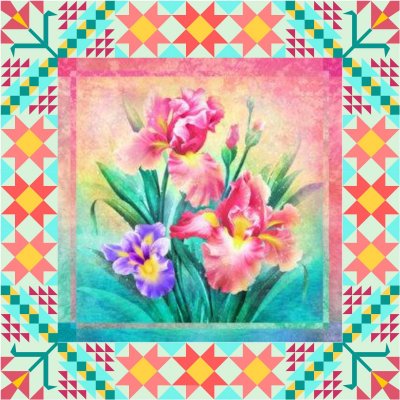 Dresden Village BOM

Do you love little stuff? We fell in love with this pattern by
Suzn Quilts and are offering it as a BOM in colors from our newest basics: Sparkler, along with a variety of eight different low volume background prints.

Your $25 sign up fee helps offset the cost of the full pattern, three template sets, all of the grey fabric and the black fabric for the blocks which you will receive in the beginning. Receive background fabric and one color of Sparkler to make a complete set of blocks each month. See picture below.


Limited to 12 participants. Sign up here. Then call the shop to sign up.

Starts June 1, 2022.
Dresden Village - Make a set of these adorable blocks in a different color each month. The large Dresden plate block is 10" x 10" (to give you an idea of the block sizes.)
New Fabrics!
I've Got a Notion. Colorful sewing notion prints with vintage spools, scissors and buttons. Larger scale than other sewing prints we've had recently making them awesome for totes and zipper bags. Click here to see all of I've Got A Notion.



Click here for the Zippy Strippy Pattern.
Click here for the 1/4 yd cuts (enough to make all 3 bag sizes).




Click here for the tote pattern
Click here for webbing.




Featured Panel
Summertime by Maywood.
Bright, clear colors in traditional red, white and blue, the panel has sweet summer scenes of fireworks, watermelon wedges, pots of flowers and more printed in stitch work. You can embroider over the lines or enjoy it as is (like we did!) The panel comes in red or blue. The 6" blocks are perfect for hand shading and turning into pincushions. We used the Marti Michell Fussy Cutter ruler to square up those panel blocks and the Sashing Star Ruler to make short work of the piecing.

Click here to view all of Summertime.
Click here for the 54" x 62" lap quilt kit.




Click here for the Marti Michell Fussy Cutter Ruler.


Click here for Marti Michell's Sashing Star Ruler set.


Click here for the panel in blue.


Click here for the panel in red.


Click here for the large red panel



Check out Carol's hand shaded pincushions! Make them for all your friends!



Focus on handwork
Polish Souvenirs: Wool and embroidery with a bit of bead work! Brought to you by Granny's Legacy, this set of 18 ornaments was inspired by Polish Pottery. The kit includes the pattern book (with super sized images so you can see the stitch detail), all the hand dyed wool, beads and backing fabric. (Floss, hanging ribbon and optional fusible is not included.) Make them as ornaments, like we did, or connect them to create a stunning table topper. Click here to shop for the kit.




Windsock Kits!
These kits include colorful strips of UV protected flag fabric, the pattern by Gypsy Quilter and the pop up hardware, hanging hook and interfacing to make a colorful windsock. It's part of our new Grab and Sew complete kits. We've packaged it with everything you need except thread!
Click here to shop for the windsock kit.
Click here to shop all Gypsy Quilter pop up projects and hardware.


Tiny Tree A Day Challenge
(continues all year!)
You may join at any time! Click here for the template set. Click
here
to download the pdf with guidelines and tips.

July 2022 Retreat!!
General registration is now open for our UFO Retreat July 28 -31, 2022 at the Glenn County Fairgrounds in Orland, CA.

Grab your UFOs and a quilting buddy or two, load your RV and head to the Fairgrounds for three full days of sewing with friends! No RV? No problem, the Orland Inn is nearby. Please make RV or hotel reservations on your own. This event is limited to 50 attendees and historically it sells out quickly so don't delay.

Click here for the registration form with more information.

Click here for the Glenn County Fairgrounds RV reservation form.

Click here for online payment of your $50 deposit to save your spot (deposit is non-refundable). Balance due by July 1.

Click here to pay in full $200.



When paying online, please follow up by sending your registration form to the shop. Scan and email to quiltcorral2488@att.net, or mail to 245 W Wood St, Willows, CA 95988




See you at Quilt Rush! (Yes, Barb will be here too!)
Carol and Barb

Quilt Rush: May 11-15, 2022 (extended hours during Quilt Rush M-Sa 9-5 and 10-4 on Sunday)
July Retreat: July 28-31, 2022

If you've missed any of our previous emails or just want to check a past email for something specific you can view them here in the newsletter archives.

Monday - Saturday 10 AM - 3 PM.
For needs outside of these hours please contact us via the contact page on our website, or via FaceBook, or by calling the shop. 530-934-8116