Skip Navigation
Website Accessibility
Quilt Corral April 2022 Newsletter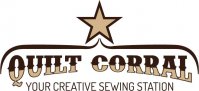 Howdy Quilt Corral Friends!

It's time for spring fun: Easter, Mother's Day and graduations are all on the horizon! Not to mention two shop hops! And boy howdy! Do we ever have the goods! Shipments continue arriving daily! If you are in need of a new project - we are your Inspiration Station!! Come see what's new!

Upcoming Events:
Bunny Hop Shop Hop! April 22 & 23, 2022: Visit seven Northern California shops over 2 days. Collect a free mug rug pattern at each shop.

Quilt Rush May 11-15, 2022: "Best in the West! Wanted: All Quilters!" Visit the Quilt Rush website for the most up-to-date info. http://www.quiltrush.org/

Retreat Jul 28-31, 2022: Registration information will be in the May newsletter. No early registrations accepted but you can still save the date!




2022 Block of the Month Programs

Sparkler - we have one spot left.
$15.99/month for 14 months - includes the book and the Creative Grids Kitty Corner ruler. Finished size 82" x 82". Sign up for the last spot by clicking here.




Iris Dream BOM
A Quilt Corral Original, this BOM will run for 7 months and includes the 60" square center panel. Choose the Purple/Blue color way or the Coral/Green color way. Sew the border blocks together as you go so by the time you complete the last month your borders will be ready to sew to the gorgeous center panel. Limited spaces in each color way. Starts June 1, 2022.
Finished size: 84" x 84"
$17.99/month for 7 months

Call the shop to sign up. 530-934-8116

Purple/Blue version. Includes dark purple binding.




Coral/Green version. Includes Jade Green binding.




Dresden Village BOM
Do you love little stuff? We fell in love with this pattern by Suzn Quilts and are offering it as a BOM in colors from our newest basics: Sparkler, along with a variety of eight different low volume background prints. Your $25 sign up fee helps offset the cost of the full pattern, three template sets, all of the grey fabric and the black fabric for the blocks which you will receive in the beginning. Receive background fabric and one color of Sparkler to make a complete set of blocks each month. See picture below.
Limited to 12 participants.
Starts June 1, 2022.
$25 sign up fee plus 16 months at $13.99/month.
Finished quilt size is 74" x 86".
Sign up here then call the shop with your credit card info for auto billing each month.




Dresden Village - Make a set of these adorable blocks in a different color each month. The large Dresden plate block is 10" x 10" (to give you an idea of the block sizes.)




New Kits!
Bespoke Stars
Carol has a knack for combining fabric collections and patterns and Bespoke Stars is just one example illustrating her talent! Make this gorgeous quilt in Tula Pink's Daydreamer collection. Big pieces and a large 60 degree ruler makes for fast work!

Click here to shop for the Bespoke Stars Kit.
Click here to shop all of Daydreamer.
Click here for the Bespoke Stars pattern.
Click here for the 60 degree ruler.




Bittersweet Pumpkins
Get lots of variety easily by starting with a set of 10" precut squares. We've combined a Kansas Troubles pattern with Bountiful Harvest fabric collection to create a unique, fall themed quilt. Finished size 63" x 63".
Click here to shop for the kit.




New Fabrics!
We have so many new fabric collections that it's hard to choose which to feature. Color collage was so popular at our recent retreat we figured we better show it to the rest of you before it's completely gone! Customers are using it for pillowcases, tote bags, in collage quilts and, yes, some are buying it without a plan in mind because it's just so unique! Each print is a different mix of I spy adventures!
Click here to shop all seven colors of Color Collage.
Click here if you love them all and want a bundle of 1/2 yard cuts of each color.



Featured panels
Did someone say Patriotic? Always a favorite at Quilt Corral, we are currently well stocked with red, white and blue fabrics in florals, plaids, stars and stripes including several patriotic panels.
Click here to see all of My Country by Moda
Click here to see American Dream by Riley Blake
(Also, just delivered, and not yet entered into inventory, ask to see Summer Time from EE Shenk.)

Here is a sampling of some of the companion panels. Click the image to shop.

American Dream 36" x 43.5" flag. Quilt it, bind it, you're done!




Printed tiny patchwork




Fill a basket with mini pillows or make some into pincushions. (Barb loves big pincushions filled with crushed walnut shells to hold pattern books open to the page she is working on.) Click the image for ecru (parchment) background. Click here for tea dyed (wheat) background.




Collage patchwork - how cool would this be on the back of a denim quilt? Click here for all three variations.




New Notion for Tiny Trees!
Creative Grids 3 1/2" x 6 1/2" ruler. Carol has discovered that this awesome little ruler is the perfect size for trimming up your Tiny Tree a Day blocks! Granted, there are many rulers that will work but we love the size and the non-slip grips of this Creative Grid ruler. It sure makes easy work of trimming those small blocks.
Click here to shop for the ruler.




Aurifil 40 wt thread. Now available as a complete set!
Get all 36 spools of beautiful Aurifil thread. Includes both neutral and bright colors. This cotton covered polyester thread is stronger than the 50 wt thread and is incredibly low lint. In addition to machine piecing and quilting we love to use it for clothing construction, bag making, stuffed animal sewing and it is awesome for sewing mesh. We've packaged it into a complimentary Quilt Corral zippered project bag.
Click here to shop for the thread bundle. (If we show sold out, please call the shop.)




Back in Stock in time for Spring Cleaning!
As for us, we'd rather sew than clean but if Spring Cleaning in your sewing room is on your to-do list we have products to make it more fun!

Microfiber Duster Fuzzy Stick
Shop in store for color selection or for online orders we will choose for you. (Your cat might like it too!)
Click here to shop for Fuzzy Stick.



Hot Iron Cleaner
Don't overlook your iron while cleaning up your sewing space. If it has fusible stuck to the plate give this product a try!
Click here to shop Iron Off.




Magnetic pin wand
Corral loose pins with this fun patchwork magnet - It's new from Riley Blake. Click here to shop.


Jillily Studio Keeper Project Boxes
Organize your projects with see through project boxes from Jillily. The two pack has one each of two different sizes. Click here to shop.


Machine Cleaning Brushes
And while you are on a cleaning spree, take the time to clean and oil your sewing machine. And change the needle too!
Shop machine cleaning brushes by clicking here.


Barb's Way/Carol's Way Shop Hop tips:
We have two Shop Hops coming up soon so we thought it would be fun to share a few ideas from our own shop hop experiences.

Go through your patterns and projects that you want to make and write down all those odd little notions, interfacing, or specialty rulers needed to complete your project. One store doesn't carry it all but if you are going to many stores you have a good chance of finding what you need!

Carol likes to look for kits or projects ready to go, new notions, gadgets and fun fabrics. If she sees a fabric she loves and doesn't know what she is going to use it for she buys 2 yards.

Barb likes to find zippers in the colors and sizes for specific projects, fun patterns with clever techniques, woolwork and embroidery ideas, and 4 to 6 yard cuts of background prints for large applique quilts. She buys 1/3 yard cuts of civil war reproductions. (Carol says, "What can you do with a stinkin' 1/3 of a yard?)

Download our Shop Hop shopping list by clicking here. Fill it out and bring it with you as you Bunny Hop and Quilt Rush from shop to shop.

Get ready to Shop Hop!
Carol and Barb

Bunny Hop: April 22 & 23, 2022
Quilt Rush: May 11-15, 2022

Monday - Saturday 10 AM - 3 PM.
For needs outside of these hours please contact us via the contact page on our website, or via FaceBook, or by calling the shop. 530-934-8116