Skip Navigation
Website Accessibility
Quilt Corral Mar 2022 Newsletter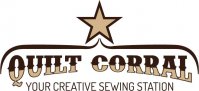 Howdy Quilt Corral Friends!

Spring is springing!

Spring shipments are arriving daily at Quilt Corral! Stop in and see what's new and oh-so-pretty!


Upcoming Events:



Facebook Live on hold:
We are taking a break from doing Facebook Live sales to free us up to plan more
in-person events. Online shopping is always open via our website.

Retreat Mar 24-27.
SOLD OUT!

Quilt Rush May 11-15, 2022
:
Visit the Quilt Rush website for the most up-to-date info.
http://www.quiltrush.org/


Tiny Tree A Day Challenge

Many of you have joined us in the Tiny Tree a Day challenge. Are you loving it? We are! Still thinking about it? No problem - you may join at any time! Click here for the template set. Click
here
to download the pdf with guidelines and tips.
2022 Block of the Month

Our "Sparkler BOM" projected to start April 1 is delayed until May 1 pending fabric delivery. The sample is now hanging in the shop. Stop in to see it! Thank you for the awesome response to this BOM!! We will accept sign ups until March 27th. (We've extended the signups to give everyone who is interested a chance to sign up.)
$15.99/month for 14 months. Price includes the Kitty Corner Ruler and the Book. Sign up and pay for Month 1 here, then call the shop with your credit card info for auto-billing.
Finished size is 82" x 82".




New Fabrics!
Honey Bee
It's spring in the valley which means the honey bees have been hard at work pollinating the almond orchards! Celebrate the season with new honey bee fabrics in traditional yellow and black.
Click here to shop all Honey Bee.




Featured Panel
Welcome to the Farm
Okay - so you just can't have a quilt shop in the heart of farm country and not expect us to select fabric featuring farm animals! Especially when they bring on the sass! This bright and cheerful collection is whimsical and fun. We have all three panels, fat quarter bundles and several of the coordinates. Add borders to the large barn panel and make a baby quilt in a flash! Click here to shop all of Welcome to the Farm.



Back in Stock!
Splash Rotary Cutter by Olfa! Not only is it a trendy color, but it has a comfortable contoured handle and, best of all, an easy blade change feature.
Click here to shop for Splash.
We are also restocked with replacement blades in most sizes. Click here to shop all rotary cutters and blades.


New item!
What is it about cute scissors? We can't resist them and apparently you can't either, based on how quickly they move out the door! New from Riley Blake, check out this patchwork scissor and tape measure duo. Click here to shop.


Focus on handwork
Stitching Time Bowl Fills. Wool and embroidery combine to make adorable sewing themed bowlies! The pattern comes with a pre-printed panel - just add touches of handwork.

We've included the wool and the chenille yarn.

Put crushed lavender in with the filling for fragrance. Or fill with walnut shells and use as a pincushion! Make a complete set for yourself or share with your quilting friends! (Buttons, floss and fluff are not included.) Click here to shop for the kit.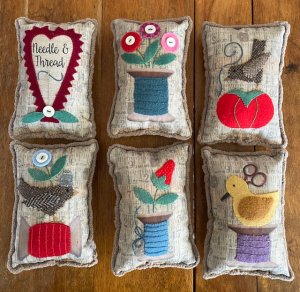 If you've missed any of our previous emails or just want to check a past email for something specific you can view them here in the newsletter archives.

Spring cleaning is over rated! Go sew instead!
Carol and Barb

Mar Retreat: Mar 24-27, 2022 (Sold out)
Quilt Rush: May 11-15, 2022

Monday - Saturday 10 AM - 3 PM.
For needs outside of these hours please contact us via the contact page on our website, or via FaceBook, or by calling the shop. 530-934-8116