Skip Navigation
Website Accessibility
Quilt Corral Feb 2022 Newsletter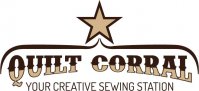 Howdy Quilt Corral Friends!

Happy February! We have a lot of "sweet" things for you to "love" this month!
Announcing: A Sweetheart of a Deal, Sparkler BOM, and our first ever BOGO, plus much more!


Upcoming Events:



Next Facebook Live:
Feb 18, 2022, 6 pm
Mar 4, 2022, 6 pm

Tiny Tree A Day Challenge
Are you making a Tiny Tree a day in 2022? Start anytime - your year will end 365 days after your start date.
Click here for the template set. Click
here
to download the pdf with guidelines and tips.
Winter Wonderland Virtual Shop Hop!
Thank you to those who joined our Winter Wonderland Virtual Shop Hop. If you missed the chance to collect a 12" winter themed block from each shop, no problem, all five are included in our Brr Quilt. Finishing at 36" x 36" our exclusive kit is made with Fairy Frost fabric for wintery glitter. Click here to get the Brr Quilt Kit. (If the website shows Sold Out, please call the store to order 530-934-8116.)


ANOTHER! 2022 Block of the Month
!!
Sparkler BOM!
Are you like us? Do you adore Red, White and Blue quilts? Make this stunning medallion style sampler using the new Creative Grids Kitty Corner ruler. We love the unique and interesting variety of blocks, the multiple pieced borders and the great directions provided in the workbook by Deb Heatherly. We've used the

Sparkler Fabrics, by Riley Blake - they're

beautiful tone on tone subtle prints with a touch of metallic.
Starts April 1st (sign ups end Mar 21)
14 months
$15.99/month
(Monthly fee includes the Creative Grids Kitty Corner Ruler, the pattern book, and the finishing kit.)
Finished size: 82" x 82"
Sign up and pay for month 1 here, then please call the shop with your credit card info for auto-billing.




SOLD OUT! Manzanita Grove Sampler in Civil War Fabrics BOM. Thank you for your enthusuastic response!

New Fabrics!
Sugar and Spice by Riley Blake
These vintage valentine prints are so sweet! We have a handful of the prints, 10" precuts and a 1 Yd bundle with the collection of 8 prints. Get some today and sew a sweet pillow case for someone you love! Click here to shop all Sugar and Spice.




For lovers of handwork!
Featuring embroidery and wool, make this small Stitcher's Priorities quilt in a few evenings. Kit includes the fabrics and the wool for the scalloped border. Add your own floss and vintage buttons. Click here to shop. Finished size: 13" x 17".




Sweet Stuff

I love my Quilting Friends Ruler
Creative Grids 2 1/2" x 6 1/2" ruler. Shop here.


Something Pink!
Are you sewing a lot of pink this month? Grab yourself a three pack of Aurifil 40 wt thread in PINK! Click here to shop all three packs. Select a small image to see the colors.




Love Fat Quarter books - sweet everyday value!
8 patterns in each mini book for $10 ea. These tiny books are packed with easy quilts using fat quarters. Start sewing those bundles you've collected into quilts! Click the image to shop or click here to browse all.


Back in Stock!
10" x 10" Precuts
We are well stocked again with 10" x 10" precuts. Get 'em while you can! Click the image to shop or Click here to shop all 10" precuts.




A Sweetheart of a Deal!
$5 panel sale! Great panels. Great discounts. $5 each. Click the image to shop. Click here to shop all panels (reg price and sale.) Sale ends Feb 28th when all these panels will revert back to regular price.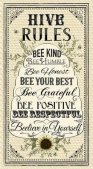 BOGO on Mesh!!
We are well supplied with colorful vinyl mesh, so we are offering our first ever Buy One Get One sale! Buy one roll of mesh (18" x 36") and get one for free! Two for the price of one! And that's not all! Call the store for the BOGO deal and tell us your color choices. Webbing and patterns featuring mesh are 20% off. Click here to shop webbing and mesh patterns.




UFO RV Retreat SOLD OUT!!
The March retreat is SOLD OUT with a long waiting list. If you are registered the balance is due by Mar 1.
Click here to pay your b

alance - due by Mar 1st.


Click here for the fairgrounds RV reservation form.

The next retreat is set for July 28-31, 2022. Registrations will open in May. Please, no early "save a seat" requests.

If you've missed any of our previous emails or just want to check a past email for something specific you can view them here in the newsletter archives.

Stay sweet and stitch on!
Carol and Barb

Mar Retreat: Mar 24-27, 2022
Facebook Live: Feb 18, 2022 6 pm
Mar 4, 2022 6 pm

Monday - Saturday 10 AM - 3 PM.
For needs outside of these hours please contact us via the contact page on our website, or via FaceBook, or by calling the shop. 530-934-8116