Skip Navigation
Website Accessibility
Quilt Corral December Newsletter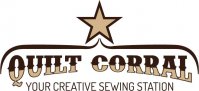 Howdy Quilt Corral Friends!

Here comes Christmas! Welcome to the busiest sewing month of the year! Barb has a sign in her kitchen that says, "If you are what you eat I'm either fast, cheap or easy." In that spirit the focus this month is projects that are quick, on sale or just plain easy breezy.

Upcoming Events:
Next Facebook Live: Thurs Dec 10, 2021 at 6:00 pm.

Accuquilt

on Sale!

All in stock Accuquilt dies are 30% off until Dec 31.



The next

Virtual Shop Hop: Jan 24 - 28, 2022, 5:30 - 6:30pm each night.

Retreat: Mar 24 - 27, 2022. Registration will be announced in Jan. We are not quite ready to accept your registration just yet.



Virtual Shop Hop!


It's a Winter Wonderland virtual shop hop event via Facebook Live! Save the date Jan 24 - 28, 2022. Participating shops are:
Villa Rosa, Quilt Corral (that's us!), Swifty Stitches, Pieces of Love Quilt Shop and Sew Katie Jean!

Tree a Day
We are in love with this little tree template set by Suzn Quilts. The finished block is 3" x 4 1/2". Make a scrappy mini quilt in time to display this year. OR join Carol and Barb in a year long project making one tree a day (or 7 in a week, or 30 in a month). At the end of the year you will have enough trees to make one large quilt (or a mini quilt for everyone you know!) Click here to download a pdf with guidelines. Click here to get the template set.




12 Days of Christmas Mini Quilt or Pillow
Hold everything! Don't clear your Christmas scraps off your cutting table yet! While all those fabrics are still out cut the blocks for this charming small project. The 3" blocks sew together quickly. If you make the pillow it doesn't even need quilting! Finished with Christmas sewing? Make it patriotic! (or for Fall or Spring!!) Shop here for the pattern. Get the mini Dresden Plate template set here.




Label those quilts!
In your rush to finish your holiday sewing don't forget to label your quilts and projects. These sew in tags have just arrived. They have sweet sayings on small tags so the little ones you sew for will recognize it's from you. Barb uses these on the dresses and stuffed toys she sews for her granddaughter, Etta. Click here to shop.




Quilt label panels
Use a permanent marker to inscribe these fabric quilt labels. Barb's tip: Cut up the panel into individual labels and press a piece of freezer paper to the back (to make writing easier). Store them in a cute tin or box and they will be ready to grab and sign when you need one. Click here for aqua panel. Click here for white panel.




New Fabrics!
Thanks to the backlog of shipping containers in the LA harbor we are STILL getting new Christmas fabrics.
Check out Moda's Hustle and Bustle. We have it in layer cakes and a few coordinating prints. Click here to shop all Hustle and Bustle.



Tula Pink Daydreamer
We have the entire collection, fat quarter bundles and precuts! Best seen in person. It's so bright and cheerful! Click here to shop all Daydreamer.


Pining for You Quilt Kit
Kit includes the Daydreamer collection to make the quilt and it's all packed in a keepsake box. Click here for the kit.




Last minute sewing
"Christmas Pines" Pattern includes tree table runner, placemats and wall hanging. It's quilt as you go

! There is still time to make all three projects!

Click here for the pattern. Click here for basting spray. Note: A walking foot is highly recommended for this project.




"Tis the Season"
A beautiful quilt featuring traditional Christmas prints in red and green against an icy white fairy frost background. Start with 2 1/2" pre-cut strips (included in the kit). Make the trees one at a time and savor sewing this project during the doldrums between Christmas and New Years. Get the pattern here or call the shop for a complete kit.



Wool Banner
From All Through the Night, this Christmas Cheer banner panel is pre-printed with embroidery lines and most of the details. Add a bit of wool applique then finish on the machine. Simply charming. Click here for the pattern and pre-printed panel.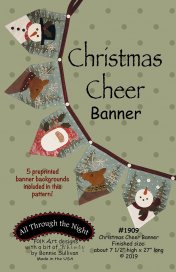 New Mesh pattern!
Hold it, Stack it, Store it
Grab your favorite color of mesh and a few fat quarters, mismatched zippers and sew this stack of storage boxes in a day. The mesh allows you to see what's inside. Perfect for your RV! Click here for mesh (add a note at check out letting us know your color preference). Click here for the pattern. Click here for interfacing - recommended for large and medium bag, you'll need 2 yards.




Zip up tray pouch
Unzip and it becomes a tray. Use it to hold English paper piecing stuff, or sewing tools for on the go. If you own an RV make several for all those nooks and crannies where you stow things. When you're finished for the day, roll it up and zip it closed. Barb will be using hers on the airplane! Important: This project uses a 10" separating zipper which are hard to find and in limited colors but Quilt Corral has them! Click here for the pattern. Click here for the Peltex interfacing (you will need 1/2 yard). Click here for 10" separating zipper - call the shop for current zipper colors.




Featured Panel
Farm Girls Unite!
Yes, we know that you know we are farm girls, but we can't resist showing the Farm Girls Unite panel again, cuz, let's face it, we've got mud on our boots and we stick together! Coordinates nicely with our new collection My Heart Belongs to my Farmer. Click here to get your panel! Click here to shop the fabric collection.




Back in Stock!
Mist bottles! We sell out of these just about as fast as we can get them in! Click here to shop.


New item!
Rose cleaning brush - perfect little stocking gift for yourself or everyone in your sewing group! Click here to shop.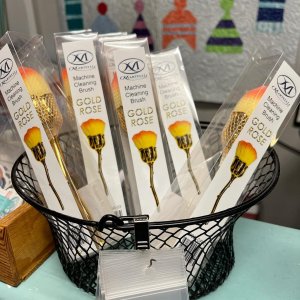 Kits on Sale!
The following kits are dramatically discounted to move!
Aqua Chains Quilt Kit
Cut Glass Echos Quilt Kit
Willow Creek Panel Project
Sea Stars Quilt Kit
Seminole Table Runner Kit
Find them (and all other items that are on sale) by clicking here.

Cuddle/Minkee announcement
We have just learned that new shipments of 90" wide cuddle are delayed by 3 months. We still have limited inventory on hand but if you think you will want 90" wide Cuddle for a project in early 2022 shop now! Click here to shop all Cuddle.

Accuquilt On Sale
30% off. Includes machines. Limited to stock on hand. This special will end on Dec 31, 2021. Shop Accuquilt here. To get the deal, call the shop with your order.

Naughty or nice, sew on!
Carol and Barb

Next FaceBook Live! Dec 10, 2021, 6:00 - 7:00 PM
Virtual Shop Hop: Jan 24-28, 2022 5:30 - 6:30 PM
March Retreat: Mar 24 - 27, 2022

If you've missed any of our previous emails or just want to check a past email for something specific you can view them here in the newsletter archives.
Monday - Saturday 10 AM - 3 PM.
For needs outside of these hours please contact us via the contact page on our website, or via FaceBook, or by calling the shop. 530-934-8116