Skip Navigation
Website Accessibility
Quilt Corral Nov Newsletter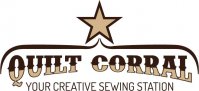 Howdy Quilt Corral Friends!

November brings Thanksgiving which brings wishes of gratitude. We are grateful indeed. Thank you for your support throughout all of 2021. We think our customers are the best and we appreciate each of you!

Special thanks to everyone who came out for our Twelve Gifts of Christmas event!

The proceeds from the sale of GG's Painted Cutouts will be donated to Wags to Whiskers, our local animal shelter. Thank you, thank you, thank you!

Looking ahead, there is still time to get plenty of projects finished for Christmas gift giving. If you need help choosing a project for that special someone, we are here to help!

Upcoming Events:
Next Facebook Live: Nov 19, 2021 at 6:00 pm.
And Dec 10, 2021 at 6:00 pm.

2022 Retreats - Save the dates!:

Mar 24-27, July 28-31, Sept 22-25

.

Fall Frolic - Virtual Shop Hop
We have three kits remaining from our Fall Frolic event. The full kit for Jolly Halloween includes the pattern with instructions for our Quilt Corral adaptations, block patterns from all participating shops, and the Kitty Corn fabric as shown. Note: The pattern includes iron on transfers for the embroidered blocks! Click the image to shop.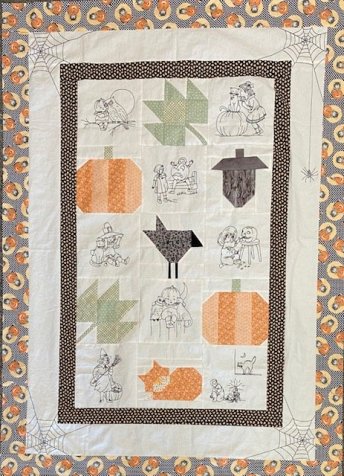 Facebook Live returns!
Thanks for all the nice comments letting us know that you have missed our regular Facebook Live! events. Volleyball season is wrapping up so Carol will be going live once a month, on Fridays at 6 pm. Mark your calendars for Nov 19 and Dec 10.

New Fabrics!
Wild West by Figo
At Quilt Corral our signature fabric collections are WESTERN! New in the shop is Wild West - and it's not your usual horses and hats. Wild West features, rocks, chickens, and textures as well as a charming Town Scene. Combines well with other collections we have in stock. Click here to shop all Wild West.




Sparkler
New tone on tone prints from Riley Blake! We have a wide assortment of these rich, gorgeous, tone on tone colors with a sprinkling of metallic stars and dots. Click here to shop all Sparkler colors.




Into the Woods
Another Riley Blake collection - this time featuring Red, Black and Grey with Woodland creatures, footprints, and tartan plaids. Click here to shop all Into the Woods prints.




Featured Panel
Maverick by Northcott. Northcott does such an awesome job on their panels and these wild horses are no exception. Click here to shop Maverick fabrics, panels and lap quilt kit.




Back in Stock!
Soft Book panels!
We have several to choose from! Try this trick from our friend Mary: Instead of sewing the pages right sides together and turning them right side out, place the pages wrong sides together and serge the edges. Your book will be done in no time!
Click the image to shop. Or click here to shop all book panels.
I love you to the Moon and Back

Make room in the bed sleepy head
The Wheels on the Bus


New items!
Tula Pink Zipper bags. The lemur is medium size, the zebra is large. Click the image to shop.



The store is well stocked with Christmas fabric collections and projects! Look for woolfelt ornaments, table toppers, table runners, quilts, panels and so much more. Stop in to see it all in person or click here to shop a variety of Christmas items.

If you've missed any of our previous emails or just want to check a past email for something specific you can view them here in the newsletter archives.
Happy November, Happy Thanksgiving, Happy Sewing!
Carol and Barb
Next FaceBook Live! Nov 19, 2021, 6:00 - 7:00 PM
2022 retreat dates:

(Save the date - registration for Mar opens in Jan) Mar 24-27, July 28-31, Sept 22-25.
Monday - Saturday 10 AM - 3 PM.
For needs outside of these hours please contact us via the contact page on our website, or via FaceBook, or by calling the shop. 530-934-8116