Skip Navigation
Website Accessibility
Quilt Corral Sept Newsletter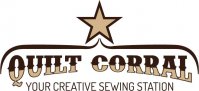 Howdy Quilt Corral Friends!

Good bye lingering days of summer. Good bye ruby red tomatoes and golden orbs of peaches. Summer is gone - hello Fall!

Welcome to our Sept newsletter. We have lots going on including a fall clearance sale - select kits 25% off, Accuquilt preorders, and 2022 retreat dates!

Upcoming Events:

Fall Clearance - select kits 25% off until Sept 30. See below for images.

Next Facebook Live: Facebook live is on hold. Volleyball schedule keeps changing!

Retreat Sept 23-26, 2021."Stirrup Some Fun" at Glenn Co Fairgrounds. We still have a few openings. Click here to register.

Accuquilt New Block on Board pre-orders until Sept 15th. See details below.

Fall Frolic Virtual Shop Hop: Oct 4-8, 2021, 5:30 - 6:30pm each night.

12 Gifts of Christmas: Nov 5-6, 2021




Virtual Shop Hop!


Fall Frolic!
We've joined forces again with neighboring shops to bring you another fun virtual shop hop event.




12 Gifts of Christmas!
Nov 5-6, 2021
4 shops - 3 gift ideas at each shop - 2 days. It's our annual 12 Gifts of Christmas mini shop hop! Visit all four shops for Christmas ideas galore! Each shop will feature three ideas plus have many more projects on display.



New Block of the Month:
Patch Party! Sign up fee is $20, plus $13.99/month for 11 months. Click here to sign up. You will receive all of the background fabric upfront and the colored fabric and pattern each month for 11 months. So pretty!



New Accuquilt Block on Boards - Preorder now!
Accuquilt is allowing Signature Dealers to take preorders on their newest dies: 16" Feathered Star and 8" Weathervane. Be among the first to get yours! Preorder the Feathered Star here. Preorder the Weathervane here.


New Fabrics!
Home on the Range! We have the whole collection! Classic images in rich tones of turquoise, clay, adobe, cream. Click here to shop all fabrics, panels and patterns.



Featured Panel(s)
Black Cat Pumpkins
Sleek cats, elegant damask prints, pumpkins, bats, cat eyes plus great blenders. A winner of a Halloween collection and the last of the Halloween we have on order (we think!) We have panels, prints, kits and patterns. See the apron and oven mitt sample at the shop. So easy, so fast. Make yours today. Shop the collection here.



Back in Stock!
Long out of stock, Cotton Pickers are finally back! Use it to clean your cutting mat, Accuquilt dies or just to get the threads off your clothes. Click here to shop.


Abundant table runner kits!
At Quilt Corral we are currently rich in table runner kits. If this is the time of year you enjoy making table runners for gifts, shop now for best selection! We have so many to choose from! Click here to shop all table runner kits.




New items!
Bobbinators by Wonderfil. We like these for taking a bit of thread on the go (Barb for hand applique, Carol for bindings) but they also work really well for their manufactured intent: putting a wound bobbin on the top spindle of your machine. It will feed in perfectly without snagging. Click here to shop multiple colorways.



Vintage Ornaments Preprinted!
Preprinted and precolored ornaments. Ready for your hand embroidery! Click here to shop all in stock designs.


Fall Clearance Sale!
Select kits 25% off - limited inventory!

Sale prices good until Sept 30, 2021.

In some cases we only have one kit remaining. Click the quilt image to shop.

Manzanita Grove (this is Barb's Manzanita Grove Collection)



Cut Glass Echoes (this is Barb's Tiara Collection) As seen on Love of Quilting!

Sea Stars
Twirling Tiara (this is Barb's Tiara Collection)



Aqua Chain (Carol's original design)

Crossing Baltimore


2022 Retreat dates
Announcing upcoming retreats for 2022. We aren't ready to take registrations yet but wanted to give you the dates! Mark your calendars now! Registration will open about two months prior to each retreat.
Mar 23-26, 2022 (note: this retreat is a Wed - Sat event)
July 29-31, 2022
Sep 23-25, 2022

If you've missed any of our previous emails or just want to check a past email for something specific you can view them here in the newsletter archives.


Quilt On!
Carol and Barb

Next FaceBook Live! on hold for now.
Virtual Shop Hop: Oct 4-8, 2021 5:30 - 6:30 PM
12 Gifts of Christmas Shop Hop: Nov 5-6, 2021.

Monday - Saturday 10 AM - 3 PM.
For needs outside of these hours please contact us via the contact page on our website, or via FaceBook, or by calling the shop. 530-934-8116