Skip Navigation
Website Accessibility
Quilt Corral July Newsletter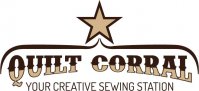 Howdy Quilt Corral Friends!

Happy Star Spangled July to everyone!

Upcoming Events:
Next Facebook Live: Monday, July 12, 5:30 PM (our night of the virtual shop hop)
Virtual Shop Hop: July 12-16, 2021, 5:30 - 6:30pm each night.
UFO Roundup RV Retreat July 22-25.

Hot Summer Nights Virtual Shop Hop!


We're joining forces with neighboring shops for another fun virtual shop hop event via Facebook Live! Join a different shop each night for one week, collect a block pattern from each store, enjoy the fun of spending time with each shop owner and seeing what's new and exciting at their shops. Each shop will be showcasing the blocks in a different quilt. Optional patterns and finishing kits available for purchase, but the block patterns will be free to download. The fun starts at 530 pm nightly.

July Retreat
July 24-27, It's the UFO Roundup RV Retreat! After a year plus of no retreats we are so excited to finally sew with our retreat friends again. We can accept a few more attendees in this event. Click here to register and pay in full. Click here for the registration form with more info.

FaceBook Live!
With our virtual shop hop on July 12, vending at an out of town retreat and our own July retreat, we won't be having our usual Facebook live sales this month. See you on Monday July 12th for Hot Summer Nights!

Aurifil Thread of the Month Club
Choose: One spool (bright colors, no neutrals) 50 wt 100% cotton. $13.99/m for 12 months.
OR Three spools (endangered species collections, includes colors and neutrals) 40 wt 100% cotton. $39.99/month for 12 months. Sign up here.



Wool Frames
Several of these charming framed wool projects are on display at the shop. Limited to 10 participants - there are 4 openings left. Includes pattern, printed fabric (all the embroidery lines are printed for you!) and wool. Does not include floss. Sign up here.



Dish Towel of the Month
We have a couple spots left in this monthly program. Includes flour sack dishtowel, pattern and DMC embroidery floss.
Sign up here.



New Fabrics!
It's Christmas in July with the arrival of Peppermint.
Into retro Christmas colors? You will love Peppermint in blue-green, pink, geometric, stripes, stars and iconic bows! Barb loves the pink trees, but we have it in classic red for those of you who don't think pink is a Christmas color! Click here to shop the collection.
!

Poppy Cotton
Farm girls unite! We both love this new farm girl collection and think you will too. Whether you live on a farm now (Carol) or left the farm but the farm never left you (Barb), or just love farm whimsy in general - check out Poppy Cotton! We have yardage, layer cakes, fat quarter bundles, and a cute pattern! Click here to shop.



Featured Panel
Kitty Corn
Halloween lovers - the Kitty Corn Collection has arrived at Quilt Corral! We have retro cats and candy corn in layer cakes, fat quarter bundles, yardage, panels, and kits! Click here to shop for everything!



Back in Stock!
Cakewalk book featuring the Moda All-stars. Use 10" precut squares for the projects in this book. Click here for the book. Click here to shop 10" precut packs.



New items!
123 ABC Pins in a divided magnetic pin holder. For all those times you wish you could keep track of things by simply sticking a pin in it! Click here to shop.


Rosie Card Set
Who says farm girls don't like pretty? We know about grace and style but can't help the pile of barn boots on the porch! To get a set of these pretty cards with encouraging farm girl messages shop here.


If you've missed any of our previous emails or just want to check a past email for something specific you can view them here in the newsletter archives.

Stitch On!
Carol and Barb

Next FaceBook Live! July 12, 2021 5:30 pm
Virtual Shop Hop: July 12-16, 2021 5:30 - 6:30 PM
Retreat: July 24-27, 2021 (Yee Haw!)

Monday - Saturday 10 AM - 3 PM.
For needs outside of these hours please contact us via the contact page on our website, or via FaceBook, or by calling the shop. 530-934-8116