Oh! It's summer! We love summer!

We have a lot of things to talk about but first we want to extend a heart felt thanks to all who attended the 2021 Quilt Rush. It was such crazy fun! We weren't sure if you would come but come you did! In record numbers! We thank you!

Congratulations to our door prize winners: Darlene Urban won our flower pot full of quilting supplies. Our daily winners were: Pam Pellizzari, Vicki Rordean, Frances Homing, Barbara Massa, and Tina Mederios.

It was great to see everyone again!

We also thank all who participated in our Accuquilt Passport to Go! event. Your feedback was phenomenal! We are pleased you found the event useful and informative. If you want backing fabric in the same colors as the event project, it is now on the shelf in the shop. We have some of each color left over. Click here to shop. The colors we used were: Caribbean, Coral, Peach, Yellow and Mint.

The door prize winners from the Accuquilt Event were:Kim Dreadmore, Jody Sammons, Rae Ann Titus and Ray Fox. Congratulations! Pick up your prize at the store (first come gets first pick - and there is an Accuquilt die among the prizes!)

Upcoming Events:
Facebook Live: Thurs June 3, 2021 at 6:00 pm.
And Thurs June, 24, 2021 at 6:00 pm.
Accuquilt

on Sale

until June 15, 2021 see details below.


Another

Virtual Shop Hop: July 12-16, 2021, 5:30 - 6:30pm each night for five nights.
Retreat July 22-25. Watch your email for an announcement about registration. Soon. Really soon.



Virtual Shop Hop!


We've joined forces again with neighboring shops to bring you another virtual shop hop event via Facebook Live! Join a different shop each night for one week, collect a pattern from each store, enjoy spending time with each shop owner and seeing what's new and exciting at their shops. Participating shops are:
Villa Rosa, Quilt Corral (that's us!), Swifty Stitches, Pieces of Love Quilt Shop and, NEW: Sew Katie Jean!

Did you miss out on our kit for the Unravel the Mystery Virtual Shop Hop? We received another shipment of fabric so it's back in stock. Kits are $99.99, includes the pattern. It's the only way to get the pattern now! When our current inventory of kits is sold out this pattern will be retired. Shop here for the kit.




FaceBook Live now on Thurs at 6 pm!
With our attention diverted to Quilt Rush and our Accuquilt event we skipped Facebook Live for a few weeks. But we are back! The two dates for June are the 3rd and the 24th at 6 pm.
Note the day and time change! We will be going live on Thursdays at 6 pm.

During our last few Facebook Live events we used Comment Sold. Sometimes we really liked it but due to overwhelming customer response we are going back to our original way of tracking your orders. If you want to purchase something at the live event be sure to message us with your contact info and tell us if you will pick up or want shipping. We will email you an invoice after the event is over. Please pay your invoice promptly - even if you plan to pick up at the shop. Let the fun resume!

Block of the Months and Clubs
Have you ever noticed our logo proclaims Quilt Corral as "your creative sewing station"? We are always thinking of the next creative thing to bring to you. For example, look at the variety of clubs and monthly programs we're offering! This year we have more wool, and more embroidery, pillows, thread AND of course quilts!
Fly Me to the Moon BOM is wrapping up, Vintage Sampler BOM is ongoing - it sold out in a heart beat but we have the full pattern available here. Summer Kitchen and Granny's seed packets have started and both are sold out.

We still have openings in the following clubs and BOMs and will have new BOM quilts starting later in the summer.

Aurifil Thread of the Month Club
Choose: One spool (bright colors, no neutrals) 50 wt 100% cotton. $13.99/m for 12 months.
OR Three spools (endangered species collections, includes colors and neutrals) 40 wt 100% cotton. $39.99/month for 12 months. Call the shop to sign up.




Pillow of the Month Club
We have one opening in this club. If you are interested but don't want to get all the past months at once, just let us know and we can sign you up for one kit a month. Sign up here.




Wool Frames
Several of these charming framed wool projects are on display at the shop. Limited to 10 participants. Includes pattern, printed fabric (all the embroidery lines are printed for you!) and wool. Does not include floss. Sign up here.




Dish Towel of the Month
Your response to this one blew us away! We couldn't believe how quickly it filled! We have added 6 more spots in this monthly program so we are once again accepting sign ups. Includes flour sack dishtowel, pattern and DMC embroidery floss.
Sign up here.




New Fabrics!
Fairy Frost! Put a little sparkle in your sewing with Michael Miller's Fairy Frost. We have a selection of colors and Fat Quarter Bundles. Shop here.


Tales and Whiskers
Calling all cat lovers! Check out this sweet collection from Paintbrush Studio Fabrics. Shop here.




Featured Panel
Buffalo Run
Beautiful Turquoise/Brown and Cream color combo celebrates Native American culture. Some of these bolts have already sold out!
Shop for the Buffalo run fabric here.
Shop for the kit here.
Get the panel here.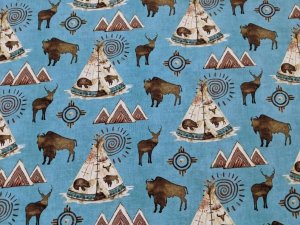 Back in Stock!
Get A Grip - Use the small or medium to keep your foot pedal from creeping. The medium and large fit under your machine to absorb vibration. Barb loves the small or medium size as a lapboard while traveling - the surface has grip on both sides so her sewing stays put on the board and the board stays put on her lap. It's worth considering if you sew in the car! Shop here.




New items!
Mesh! We now have colorful mesh and webbing!
There are so many awesome project you can make using vinyl mesh. We have it in lots of colors with coordinating webbing for straps. Buy a roll of mesh and a roll of webbing and ask for our free project booklet (it's a Quilt Corral exclusive - see pictures of some projects below!) We are expecting an order of unique patterns for cute projects. And here's a tip: Do you already have a bag pattern that uses clear plastic? Consider making it again with mesh in place of the plastic. Time to sort through your patterns and get your creativity going!
If ordering online, tell us your color choice in the comments at check out or call the shop.
Shop for mesh here. Shop for webbing here.



Basic Tote and Scrap Savers Zipper bag are included in our free pattern booklet.



Pop ups!
Pop-up projects from Fat Quarter Gypsy have been around for awhile but we've put our own spin on it by using flag fabric for the lining! Our new favorite is the T-Shirt Pop up. The flag fabric is less expensive than fabric and using it eliminates one layer of interfacing, but the best part is that the contents slide right out when emptying. The T-Shirt Pop Up pattern includes several sizes and clever options for making any size t-shirt work. How about using a Quilty T-shirt and making one for your sewing room? Or, if you know someone going off to college, order a t-shirt from the school's online student store and make one for them to take to college. They will be so surprised! Anything goes!
Get the extra Large pop up here.
To shop for flag fabric click here (1/2 yard will do)
Get the pattern here.




Machine Cleaning Brushes
Beautiful and practical, with an ergonomic handle that feels just right in your hand. Treat your sewing machine to a spa day. Several colors available. Carol's favorite - anything bright, Barb's favorite - Classic Black with a splash of pink in the bristles. All colors will get the lint out of your machine! Shop here.




Pre-cut Kits!
We're trying something new with an old friend! Take Five pre-cut kits. The Take Five pattern is a long time favorite at Quilt Corral and now you can save time because we've done some of the work for you by selecting the five fabrics, AND, cutting it out! (Of course, we cut it with the Accuquilt Studio, so don't be too impressed!) Choose from Honey Bees, Christmas, Desert Horses in Gold or Desert Horses in Peach. Finished quilt is 62" x 70". Kit includes yardage for the border and binding. Go home and start sewing today. Pattern is sold separately, in case you already own it. Shop here.




Accuquilt On Sale!
Buy one at regular price, get the second (equal or lesser value) for 40% off. Includes machines. Limited to stock on hand. This special will end on June 15, 2021. Shop Accuquilt here. To get the deal, call the shop with your order.

Get your summer on! But save time for stitching!
Carol and Barb

Next FaceBook Live! June 3, 2021, 6:00 - 7:00 PM
Virtual Shop Hop: July 12-16, 2021 5:30 - 6:30 PM

If you've missed any of our previous emails or just want to check a past email for something specific you can view them here in the newsletter archives.

Monday - Saturday 10 AM - 3 PM.
For needs outside of these hours please contact us via the contact page on our website, or via FaceBook, or by calling the shop. 530-934-8116