Skip Navigation
Website Accessibility
Quilt Corral's May Newsletter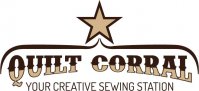 Howdy Quilt Corral Friends!

Here's a bit of what's going on at Quilt Corral!


Do you need a sweet Mother's Day gift or something for a favorite graduate? Check out our new gift section or shop online here.


Upcoming Events:
Facebook Live: May 7, 2021, 630 pm


Quilt Rush: May 12-16, 2021




Passport to Go!

Accuquilt Event: May 22, 2021

Virtual Shop Hop
Wasn't the virtual shop hop fun? Did you collect all the clues to Unravel the Mystery Quilt? We appreciate all who participated in the four-shop event last week. Our version of the mystery quilt, which, by the way, was designed by Barb, features Seeds of Glory collection by Riley Blake. Full kits for the 80" x 80" quilt can be purchased here.
The kit is $99.99 and includes the instructions.


Quilt Rush returns!!

Click
here
for a pdf with full details.

Passport to GO!

An Accuquilt Event!



Saturday, May 22, 2021. Register
here
. Go home with this quilt completely cut out and ready to sew!

Dishtowel of the month is underway!

$14.99/m
includes floss.
Sign up here.


Featured Panel
We've shown this before but it seems to fit the season, so pardon the rerun.
Don't
quit on your dream - panel, kit and a notebook.
Perfect for graduation! Click the images to shop.


Speaking of graduates, or parties in general, how about
Party Pop!

This quilt would be a great backdrop behind the cake table! A simple technique by pattern designer Laura Piland of Slice of Pi, the same designer who brought us the Exploding Heart pattern. This project sews together in a jiffy - sew strip sets, then cut squares. Sew the squares together and you're done. A fun, piecing technique. We have kits with the same Equipoise brights as shown in the image. For the kit, or just the pattern shop here.




New Fabrics!
Hopewell By Jo Morton. Click the image to shop.


Retreat!
Save the date! July 22-25, 2021. When we are ready to open registration we will send an email to those who have attended our retreats in the past (in advance of general registration for newbies). Please don't call the shop with questions or to request to be put on the list. This is just a "save the date" notice at this time!
If you've missed any of our previous emails or just want to check a past email for something specific you can view them
here
in the newsletter archives.
Stitch on!
Carol and Barb

Facebook Live: May 7, 2021 630 pm
Quilt Rush: May 12 - 16, 2021 9AM - 5PM (Sunday 10-4)
Passport to GO!: May 22 (all day, choose a two hour time slot)

Current hours: Monday - Saturday 10 AM - 3 PM unless otherwise stated (such as during Quilt Rush)
For needs outside of these hours please contact us via the contact page on our website, or via FaceBook, or by calling the shop. 530-934-8116