Skip Navigation
Website Accessibility
Quilt Corral's March Newsletter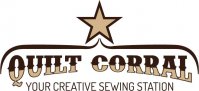 Howdy Quilt Corral Friends!

It's March and we have lots to share!

Our renovation project is complete! Thank you to everyone who dropped in during our open house. We were excited for you to see the changes. If you haven't been in yet, here is a recap: The classroom has officially been converted to retail space and we've add a new section of non-quilting gift items. The result is an expanded and more open floor plan. Many items have been moved and rearranged. If you can't find what you are looking for, let us know and we will help you locate it! (We may have to look around a bit ourselves!)



Retreats
We aren't ready to share dates for 2021 retreats just yet but we've started planning and we will announce dates just as soon as our venue permits bookings. We are just as anxious as all of our retreat friends to resume sewing together.

Although retreats are still on hold, we have dates to announce for several other events!

Upcoming Events:

Next Facebook Live: Friday Mar 5, 2021 at 630 pm.
National Quilting Day: Mar 20, 2021


NEW!

Virtual Shop Hop: April 19-23, 2021 5:30 - 6:30pm each night.
Returning! Quilt Rush: May 12-16, 2021


NEW!

Accuquilt Event: Save the date! May 22, 2021. Details coming in the April newsletter.

National Quilting Day
March 20th is National Quilting Day. To celebrate we are offering a one day, in store only, sale on Cuddle Cloth (aka Minkee). Save 20% off all in stock Cuddle Cloth on March 20th. Sorry, this offer is good for in store purchases only.

Virtual Shop Hop!
We've joined forces with neighboring shops to bring you a fun virtual shop hop event via Facebook Live! Join a different shop each night for one week, collect a clue for a mystery quilt, enjoy the fun of spending time with each shop owner and seeing what's new and exciting at their shops. Participating shops, and the date they will be live at 5:30 PM are:
Mon, April 19th - Villa Rosa
Tues, April 20th - Quilt Corral (that's us!)
Weds, April 21st - Swifty Stitches
Thurs, April 22nd - Stitched with Love
Fri, April 23rd - Friends Around the Block

FaceBook Live continues!
Join Carol on Friday nights where she introduces new products, announces events, and features a selection of items twice a month Live! via Facebook. If you see an item you'd like, comment sold along with the item number. Tell us if you will pick up or want your item shipped. We will invoice you after the event. It's fast and fun, usually lasting under an hour. Typically held on the first and third Fridays of the month, here are upcoming dates: Mar 5, and 19, April 2 and 16 (plus the special event on April 20!)

Quilt Rush returns!!
We are pleased to announce that the Quilt Rush Shop Hop experience will be back this spring! There are a few changes: The dates are: May 12-16, 2021 (this is one month later than usual.)
The other change is that a few long time participating shops have closed in the past year, so there will be fewer shops to visit. Save the dates and start planning your road trip! We look forward to seeing you!!



With the repurposing of our classroom space we are switching to events in lieu of classes. Save the date for a brand new Quilt Corral Exclusive Accuquilt event!



Passport to GO!

An Accuquilt Event!


Saturday, May 22, 2021. Registration for two hour time slots will open April 2nd but we want to give you the date so if you are interested you can get it on your calendar. Look for more details in the next newsletter.

Aurifil Thread Clubs
Starting Mar 2021 we are offering two thread clubs.
Choose: One spool (bright colors, no neutrals) 50 wt 100% cotton. $13.99/m for 12 months.
OR Three spools (endangered species collections, includes colors and neutrals) 40 wt 100% cotton. $39.99/month for 12 months. Sign up here.
When you sign up for either club you will receive a thread box and a monthly free pattern. If signing up for the three spool club you will also receive the link each month to download a paper piecing animal pattern plus digital files for a machine embroidery animal design.


We are sweetening the deal for the three spool option!


Get a free fabric kit for the paper pieced animal. The fabrics will be solids in colors similar to those shown in the Aurifil pattern.

Pillow of the Month
We have one spot remaining. You may have heard previously that we sold out of the Pillow of the Month program. Here's what happened: The program required enrolling in advance in increments of 12 kits. We were going to sew one as a shop sample leaving 11 left to sell. But we sold out of the 11 kits so there isn't a need for a shop sample. Now we are going to sell the 12th kit. It's the only one left and we will not get more so if you want it, go here, right now and sign up.

Accuquilt Sew Along continues!
Congratulations to those of you who are enjoying the Beyond the Qube Sew Along. Your work is beautiful! Keep posting your progress on our Sew Along Facebook page to be entered in a drawing each month. To learn more about this program click here. then scroll down until you see the Sew Along. It's never too late to join the fun.

Featured Panel
Destinations panel showcasing Lake Tahoe or Wine Country. 36" panel. $12.99 each. Click here to shop.


The Highlights pattern would work well with either destination panel. $9.00 Click here to shop.



New items!
In a Dash Ruler! $34.99 for the two ruler set.
Designed to be used with 10" precut squares or Layer Cakes, make perfectly sized units, in a dash! Shop here. Great for quick and accurate 8" or 4" finished blocks.



And if you're eager to give the In A Dash Ruler a try right away, here is a new 10" square precut package.Click here to shop.



New Tone on Tone Prints
In need of a blender for a colorful project? Check out Shabby Color by Riley Blake. Click here to see all 20 colors!



Western Prints
Just in!Retro western prints for the little cowboy in your life. $12.99/yard. Click here to shop.



Feelin' the luck of the Irish? We have a few March themed products to entice you!

We have Candles!
From our new gift section check out Surf's Up candles.
Click the images below to shop for Kiss me I'm Irish (Island Flower) in a can and St Patty's White Wash Linen in a jar.
Click here to shop all candles.



Livin' the Seam Dream T-Shirts $26.99
Click here to shop. (Use the drop down box to choose your size.)



St Pat's Patch
Cute for napkins or cut the patches apart and make lucky pin cushions for all your sewing friends. Reg $11.99/yard

Sale!

7.20/yard. Click the image to shop.



We're doing a bit of spring cleaning and have a few featured sale items in this newsletter. They will stay on sale until they are gone.

On Sale!
"Aqua Chains" 78" x 90" A Quilt Corral Exclusive, designed by Carol, this quilt is Accuquilt friendly!
Was $135.99,

sale price

$108 Click here to shop.



On Sale!
Pink Sand Beach Tote Bag Kits

40% off!!




These kits contain everything you need to make the featured bag. That means the pattern, hardware, zippers, and fabric are all included. Pink Sand Beach creates these kits in limited editions, many of the fabrics featured are no longer available. The kits contain the exact fabrics shown in the photo above. Close out price is 40% off. Click here to shop.

If you've missed any of our previous emails or just want to check a past email for something specific you can view them here in the newsletter archives.

Old Irish blessing: "May your seams be straight and your quilts be finished."
(It's not really an old Irish Blessing, Barb just made that up because it's March!)

Stitch on!
Carol and Barb

Next FaceBook Live! Mar 5, 2021, 6:30 - 7:30 PM
National Quilting Day: Mar 20, 2021
Virtual Shop Hop: April 19-23, 2021 5:30 - 6:30 PM
Quilt Rush: May 12 - 16, 2021 9AM - 5PM (Sunday 10-4)
Passport to GO!: May 22 (all day, choose a two hour time slot)

Monday - Saturday 10 AM - 3 PM.
For needs outside of these hours please contact us via the contact page on our website, or via FaceBook, or by calling the shop. 530-934-8116