Skip Navigation
Website Accessibility
Quilt Corral's Feb Newsletter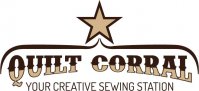 Howdy Quilt Corral Friends!

Boy Howdy! We are under construction!!

Barb hasn't been to town since September which has left Carol unsupervised for so long that she started ripping out walls! We apologize for the mess and the unannounced closures and partial closures, but we have been at the liberty of our work crews' availability. It's almost finished, and we think you are going to love it!! The changes will allow for better traffic flow and increased display space. In the meantime, if you need something just call or email us and we will do our best to serve you.

Upcoming Events:

Next Facebook Live: Friday Feb 5, 2021 at 630 pm.
Note: Depending on a volleyball tournament w

e may only host one Facebook Live in Feb. Watch for announcements on our Facebook page.

Thank you for supporting our FaceBook Live shopping events.

Clubs and Such

We have a new Club!
Introducing our brand new Color of the Month Aurifil Thread Club. Each month we will feature a new thread color. Join the One Spool Club, the Three Spool Club, or both!

One Large Spool, 50 wt 100% cotton, 1420 yards per spool:

$13.99/month. Featuring Brights. (No neutrals in this club.)


Three Large Spools of Color Builder 2021 Endangered Species Sets, 40 wt cotton,

1420 yards per each spool.

(This is a slightly thicker thread than the 50 wt and is great for garments, bags, machine applique, machine embroidery and any general machine sewing but is also fine enough for piecing.) $39.99/month. Each month features thread to match an endangered species and comes with a free paper pieced animal pattern AND a free embroidery pattern. Includes colors and neutrals.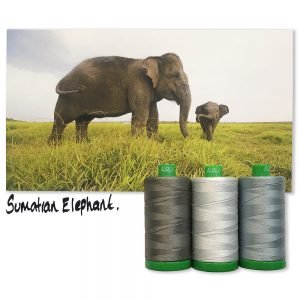 All club members will receive a plastic 12 spool thread box the first month and a free pattern every month.
Plus, there's more! We are offering a sign up bonus! Get 10% off our Quilt Corral three large spool set of Barb's favorite neutral colors.
Click here for the registration form.
Click here to prepay for the first month. Select the one spool option or three spool option.
Both programs will run for 12 months. (We are happy to ship and will use the best rate available.)

Accuquilt Go GO! Club
Accuquilt users, join Quilt Corral's Go GO! Club and make your own sale four times before 12/31/21. Members receive a punch card to save 20% off any in stock Accuquilt product. (Sorry, special orders are not eligible for the discount.) Click here for the registration form and more details. Click here to sign up.

Sew Along
Beyond the Qube, designed by Kaye Wood for Accuquilt, started Jan 10 and will continue for 10 months. Post your progress in our Sew Along Facebook Group. Carol and Barb will be posting once a month. We are loving what we are seeing of your work so far! The digital download pattern is $2.50 per month and includes the instructions, pictures of both Carol's and Barb's versions plus helpful tips we discovered while sewing our blocks. Buy your fabric for the sew along or buy any Accuquilt Go! Qube from Quilt Corral and we will give you a coupon code to get the monthly patterns for free.

Join anytime! For fabric requirements click here. For a picture of the quilt and additional information click here. To purchase Month 1 click here.

The pattern for Month 2 will be available Feb 10, 2021. There are two ways to find the monthly patterns.
1. On the 10th of each month a link will be posted on the homepage of Quilt Corral's website www.thequiltcorral.net. Scroll down until you see the Sew Along and find the link which will take you to the pattern.
2. Or from our website home page select, shop, then click on Block of the Month, then select Sew Along, then select the month you want to purchase.

Block of the Month updates:

Vintage Sampler is sold out although we have the pattern back in stock if you'd like to make it on your own. This project would be a great way to use up your scraps! Pattern includes instructions for Rotary Cutting, cutting with Marti Michell Templates AND die cutting. Choose the method you like best or use a combo of methods. (Carol's note: And the pattern has pressing arrows.) Click here to shop for the pattern.

Pillow of the Month: The first kits have arrived and are ready for pick up and/or are going in the mail this week.


We need to eat a little humble pie on this one. Apparently your local shop owners (both Barb and Carol) didn't read the fine print. This program was always set to ship to shops in Jan starting with the kit for the April pillow. The next kit to arrive will be the May pillow, and so on. Therefore, although we advertised this program as starting in Jan and running until Dec, we have modified it so it starts in Feb. You will still pay one month in advance with no payment due for the last kit (since you would have paid it in advance.)
We still have 3 spots left in this program. Click here to sign up and prepay for Month 1.

Granny's Seed Packs Wool BOM
We are expecting these kits to arrive any day. We can still accept sign ups in this program. Click here to sign up and prepay for Month 1.

Summer Kitchen
We are nearly ready to launch this program. Our sample will be completed and hanging in the shop soon! Yes, we know, we keep saying that, but hey, it's hand tinted and hand embroidered! This BOM is limited to 7 participants, with only a few spots remaining. Click here to sign up.

Classes
We have permanently ceased offering in-shop classes. Our tiny classroom didn't allow enough space for social distancing so the classroom has been converted to retail space (thus the renovations!). Once the pandemic is under control we will resume our retreats, special events, classes and sew days at off-site locations.

New at Quilt Corral!!
When the contractor and electrician asked Carol to show up at the store at 645 AM, she used that early morning time to buy new inventory! Here are a few of her picks!
Oliso small iron in new colors!!


Click here to shop for the original pink.
Click here for NEW! purple.
Click here for NEW! turquoise.

Precut 10" Squares
We don't always carry precuts but Carol found a few pretties for you! Click here to shop all 10" Square collections.



Marti Michell created a log cabin ruler just for 10" squares. We love it!! $9.98 for both the ruler and the pattern! Click here to shop.


Creative Grids bias binding tool
Do you prefer to make bias binding for your quilts? It's the age old debate: bias or straight grain for binding? If you fall firmly in the bias binding camp, this new ruler from Creative Grids was made for you! $22.49. Click here to shop.


Lori Holt Cute Cuts
For all those times you just need to cut squares. 5 sizes included from 2 1/2" up to 6 1/2". $36.99 for the set. Click here to shop.


Featured Panel of the Month
We thought our 12 days of panels in Dec was a fun way to show some of our many panels and projects. In fact, it was so much fun, we're going to keep doing it, albeit on a smaller scale (one per month vs many per day!)

Dawn Wild Horse by Hoffman Fabrics. A beautiful digitally printed image of horses on a misty morning. Feel the calm.

Wanderlust Kit $59.99 click the image to shop.




Dawn Wild Horse Panel $12.99 Click here to shop.




In our shop sample Carol used Gemstones Ombre in Gunmetal to match all the shading in the panel with just one fabric

. $11.99/yard click the image to shop.

The sawdust has settled and the paint is drying!
Come see us!
Carol and Barb

Next FaceBook Live! Feb 5, 2021, 6:30 - 7:30 PM

Monday - Saturday 10 AM - 3 PM.
For needs outside of these hours please contact us via the contact page on our website, or via FaceBook, or by calling the shop. 530-934-8116