Skip Navigation
Website Accessibility
Twelve Panels of Christmas - Day 10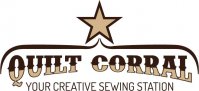 Howdy Quilt Corral Friends!

It's day 10 of our 12 Panels of Christmas program!

Upcoming Events:
Holiday Open House: Sat. Dec 5, 2020 10 AM to 3 PM.
Gifts for everyone!
Next Facebook Live: Friday Dec 4, 2020 at 630 pm.

If you've missed any of the previous emails of our 12 days of panels you can view them here in the newsletter archives. We've put all previous panels back on sale for a limited time.

Today's panel focus is about our fur friends - dogs and cats.

The featured panels are 30% off. Click the images to shop.

All items are limited to stock on hand.
Day 10
Good Dogs Too Panel

Regular: $10.49

on sale
$7.35
Good Dogs Too Quilt Kit
Finished size 53 1/2" x 53 1/2" $50.99
Here's a coordinating print that would be cute on the back. $11.99/yd

Or, click here to see other dog prints.

Feline Friends Panel
Regular $7.99

on sale

$5.59




Purfectly Precious Kit
Finished size: 43" x 63" $47.99




For backing check out this coordinating print. $11.99/yard.


For other fabrics in the collection click here.
We also have these cute wool felt kits for a mini quilt! $25.99



Maybe you'd rather make a stuffed cat!
Funky Friends Standing Cat pattern $12.99
Or a dog!Funky Friends
Digger and Dixie Dachshund pattern $12.99
Since we are talking about dogs today,
let's add an Accuquilt die to the daily deal!
Accuquilt Scottie Dog Die
Regular $34.99

on sale

$24.50 while they last.

(Sorry we are out of stock on cat dies at the moment!)


There are only 2 days to go in our 12 day countdown!
Stitch on!
Carol and Barb

Holiday open house: Dec 5, 2020, 10 AM - 3 PM
Next FaceBook Live! Dec 4, 2020, 6:30 - 7:30 PM

Monday - Saturday 10 AM - 3 PM.
For needs outside of these hours please contact us via the contact page on our website, or via FaceBook, or by calling the shop. 530-934-8116