It's day 7 of our 12 Panels of Christmas program!

We have some upcoming events:
Holiday open house: Dec 5, 2020, 10 AM - 3 PM
Next FaceBook Live! Dec 4, 2020, 6:30 - 7:30 PM

Now, on to the panel of the day!

Usually we celebrate our 12 Gifts of Christmas with a shop hop but thanks to Covid-19, that isn't happening this year. But we still wanted to provide the usual inspiration to our customers so came up with this idea of showcasing panels every day for 12 days.

Each day we are offering a one-day sale on the featured panels and sharing companion prints and projects at regular price.

If you are just tuning in you can see the past emails on our new Newsletter Archive page. Click here.

And today, we have a surprise! Read all the way to the bottom of this email to find out what it is!

The featured panels are 30% off. Click the images to shop.

All items are limited to stock on hand.
Day 7
At Quilt Corral we love snowmen, although our feelings about snow are ambiguous. For Carol, in Willows, snow is rare, so a bit of novelty, after all our town is at something like 134 feet above sea level. And for Barb, in Kansas, winter = snow. While some love snow. Barb doesn't - unless its in the form of a cute snowman embroidery project!
Snow Globe Panel:
Printed on a lovely cream ground in several shades of blue, use the Snow Globe panel as is or embroider over the lines with embroidery floss. Use the extra mini designs on the bottom of the panel in mug rug projects.
28" x 42" Regular $10.99

on sale

$7.70
Snow Globe and Blue Flannel Full Kit:
Originally offered as a block of the month, we have two of these full kits left. The kit includes the pattern and fabric as shown to make the quilt.
Finished Size: 67" x 67" $109.99
Although these bolts are getting skinny, we still have a few of the flannel Primo Plaids in stock. Click here to shop.
NEW!
Snow Globe and Snowfall Quilt kit
A Quilt Corral Exclusive!!
We had so many Snow Globe panels left over from the block of the month project that we combined the panel with the Snowfall pattern by Slice of Pi in our own unique project. The kit includes the pattern along with the assembly instructions for making our version. Easy to enlarge - just dig into your stash of blue prints and make another row of snowflake blocks for the outside edge.
Finished Size: 55" x 55" $79.99
If you want to make your snowy quilts really soft, consider backing them with cuddle cloth. We have it in snowglobes! How perfect is that?
$19.99/yd.
Or if you just can't get enough of cute snowman fabric, click the image to shop. $11.99/ yard.
Or maybe you'd rather make a smaller snowglobe quilt such as the cheerful little Snowball Jack mini quilt.
Pattern only: $5.00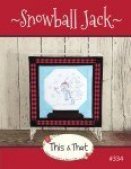 Or get the full kit:
Finished size: 13" x 13" : $14.99


We hope you are enjoying our 12 days of inspiration featuring a discounted Panel of the Day along with an ala carte menu of regularly priced kits, coordinating prints, patterns and projects that go with the featured panel.



If you are just joining in: A

ll items are limited to stock on hand.

First come first served. Items must be paid for at the time of the order.





Submit and pay for online orders daily so you don't miss out. If you'd like us to hold your paid order until the end of the 12 day series and ship all at once, select "store pick up" and put a note in the instruction box at check out saying to ship all together. We will combine your orders and invoice you for the shipping at the end.