Skip Navigation
Website Accessibility
New Dies from Accuquilt!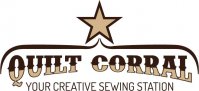 Howdy Quilt Corral Friends!

Just in time for your holiday sewing, we are pleased to announce several new dies. We have a few of each die and will be ordering more as needed. Contact us today to order.
Our current hours are:
Monday - Saturday 11 AM - 3 PM.
For needs outside of these hours please contact us via the contact page on our website, or via FaceBook, or by calling the shop. 530-934-8116
Continue to "cut time and sew more" with your AccuQuilt!
Carol and Barb