Skip Navigation
Website Accessibility
Quilt Corral's October Newsletter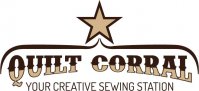 Howdy Quilt Corral Friends!

Welcome to our October newsletter!
We remain open with the following reduced hours:
Monday - Saturday 11 AM - 3 PM.
For needs outside of these hours please contact us via the contact page on our website, or via FaceBook, or by calling the shop. 530-934-8116
Facebook Live!
Have you joined Carol for a Facebook Live event yet? On two Friday's a month Carol is going live to show new fabrics, notions, kits and panels. There are always end of the bolt bargains (get 35% off when you buy the remaining fabric on a skinny bolt) and surprise discounts. We start at 630 pm and they usually last about an hour. If you miss the live event you can view the recorded version later. Note: If you are viewing after the event and see something you want please email us or call instead of leaving a comment sold on the recorded post. We don't always see those later comments.
The next Facebook Live event is Oct 16th. Always at 630 pm.
Click here to go to the event. If you selected going or interested you'll get a reminder.
Accuquilt
We appreciate all our loyal Accuquilt customers. In case you didn't know, as a signature dealer we can order any Accuquilt product for you. If you see something online that you want or hear of a newly released die let us know and we'll order it for you. And we always order some of every new die that releases. You get the satisfaction of buying local from an independent business, and you help us meet our Accuquilt quota for the year.
Stay tuned for the release of new dies in mid-Oct! We will be sending a newsletter announcement as well as posting it on Instagram, Facebook and on our website. Sorry, our contract with Accuquilt prohibits us from showing the dies before the release date but take our word for it, they are sweeeet!
New at Quilt Corral
You may have noticed that we have discontinued the automatically generated product promotion emails with the exception of the announcement of new items. If you haven't already seen it, look in your inbox for the Oct 1 email featuring New Items. You can see all the recent new additions in our inventory.
In the meantime, here are a few new items worth highlighting:
Wide Backs - 118"
When Carol ordered these she thought she was ordering standard 45" fabric. Imagine her chagrin when what arrived was 3x wider than what she expected!
We decided not to return them because we think they are beautiful. They are perfect for backing your quilts without the hassle of having to sew widths together. But what about if you need a pretty background for a quilt? 1 yard of wide back is equal to 2 7/8 yard of standard width fabric. At $24.99 a yard, it turns out they are cheaper too! In fact it's like getting 7/8 yard for free!
We have them in four colors.
Click on the fabric image to shop.
Halloween in Flannel
It's still plenty hot in the valley but Halloween is coming anyway. Accuquilt friendly, this quilt makes use of a panel plus coordinating Halloween prints - all in flannel. It sews up quickly so get yours today and finish it before Oct 31. (Or get a one year head start for 2021!!)
Shop here for the Halloween kit.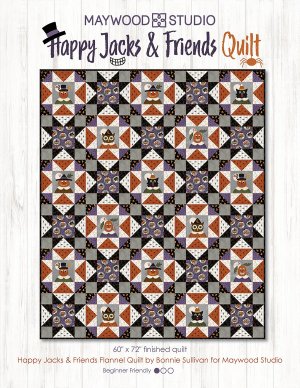 Christmas ornament kits
Kits include woolfelt to make 12 ornaments. Make them all for yourself or share them with friends or family!
Shop here for the ornament kit.
Christmas Magic Starter kit:
Many of our orders from prior to the pandemic have either been canceled or have only shipped in part. That's what happened with Christmas Magic - we only got part of what we ordered. We decided to offer it as a starter kit with
the pattern and 20 fat quarters of pretty Christmas prints. Add your own choice for background and border prints. We only have two remaining in stock and don't anticipate getting more.
Shop here for the Christmas Magic starter kit.
Featured Panel projects
Carol has reorganized the panels. The hanging rack now has one of each panel on display with a number on the hanger. Nearby shelves hold bins with corresponding numbers. That's where the packaged panel will be located. We hope this will make it easier for you (and us!!) to find the panels you want. Check it out next time you are in the store.
During the rearranging we came up with some new panel projects to market some of the 70+ panels we have in inventory. As these kits become available we will feature them in social media posts, in our Facebook live events and in our monthly newsletter. Many of these projects will be Quilt Corral originals.
Book panels
Do you make soft books? We have four different book panels currently in stock. When Barb was in town recently she sewed samples of three of them. Thanks to our very smart friend, customer, and former quilt shop owner Mary Knuaer, for sharing her method for making them they were completed in no time! The trick? Instead of sewing the pages right sides together and turning, stack them and use your serger to serge the edges. Fast. Easy. Finished. Thanks Mary!!
Shop here for the Uni the Unicorn book panel
Shop here for the Old MacDonald's Farm book panel
Shop here for The Little Engine that Could book panel
Shop here for 44" wide fusible fleece.
Sew on!
Carol and Barb