Skip Navigation
Website Accessibility
September Newsletter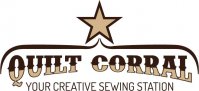 Howdy Quilt Corral Friends!

Welcome to our September newsletter!
Quilt Corral is open with reduced hours:
Monday - Saturday 11 AM - 3 PM.
For needs outside of these hours please contact us via the contact page on our website, or via Facebook, or by calling the shop. 530-934-8116
Upcoming Virtual AccuQuilt event:
"There's A Die For That!"
On Sept 11, 2020 from 9AM-11AM we will be hosting a Virtual AccuQuilt event. This event will be especially valuable if you are a new Accuquilt user, curious about Accuquilt, and/or are already using Accuquilt and want to take it to the next level.
The event is free but registration is required. Register here.


Facebook Live!
Join Carol, live! Friday Sep 4, 2020 at 6:30 pm for our next Facebook Live event. Carol will showcase a selection of fabrics, notions, kits, panels and who knows what else! If you have never attended, here is how it works:
1. Go to the event on our Facebook page
2. Select either "going" or "interested"
3. The day of the event download the product list from our website homepage.
4. The evening of the event open your Facebook page and at the upper left you should see a red box that says Quilt Corral is live now! Click on it to join, and say hello to enter the drawing.
If Carol shows something you want to purchase:
5. Comment "Sold" with the item number and tell us if you will pick up or would like it shipped. Some items are limited quantities so the first to comment "sold" gets it.
6. Message or email us with your mailing address (A must if we are shipping).
7. After the event we will email an invoice.
It's fast paced and fun! See you there!
NEW! 5th Wednesday Specials
On Wednesday Sept 30th we are doing something new! For one day only in months that have five Wednesdays, we will have surprise in-store specials for everyone, plus goody bags for the first 10 customers who bring a show and tell quilt featuring fabric or a project from Quilt Corral.
We are calling this our 5th Wednesday event! Plan to come!
NEW items at Quilt Corral!
We have had to dial back on our usual ordering of fabric collections and other items, but are trying to keep things interesting at Quilt Corral with something new arriving every month.
Buttermilk Basics by Stacie West for Riley Blake
Saturated reds, blacks and tans with creamy off-white low volume prints. We have 32 piece FQ bundles, 10" stacks, and yardage of a selection of prints in the collection.
Merry Little Christmas by Sandy Gervias for Riley Blake
We have the panel, and an apron panel and a few of the prints.

New patterns by Slice of Pi! Pattern designer Laura Piland is an AccuQuilt user so many of her patterns include AccuQuilt cutting guides. Shop by clicking on the image of each pattern.

Three New AccuQuilt Block on Boards
We are excited about three new dies: Maple Leaf, (finishes 8"), Starry Path, (finishes 12") and Snail's Trail, (finishes 8"). To shop click on each block name. If the die is sold out on the website, contact us and we will order it for you!


Scrap Saver's Series
Barb has posted our first scrap saver's video featuring Scrappy Pinwheels. Click here to view the video.
We plan to post these short videos monthly featuring a scrappy block cut with AccuQuilt. Not an AccuQuilt user? No worries! Although the video features AccuQuilt, Barb has included regular rotary cutting directions in the pattern. The pattern is available as a PDF download for a nominal fee of $4.99. Shop here.
Barb's Way/Carol's Way
Each month we will each post a video featuring the same AccuQuilt die, but using them in different ways. Next up we will be exploring the 1 3/4" strip die. Shop here. Look for the new videos on the second Thursday of the month.
Last month we featured the Morningstar Block on Board Die. See Barb's way here. See Carol's way here. Love the design ideas but don't have AccuQuilt? No worries! You can make these designs with Marti Michell's small kaleidoscope ruler. Shop here.
Barn Stars and Trails - full kits
We now have full kits available of our most recent Saturday Sampler quilt. The 12 blocks in this kit are precut for you! That's right! Precut! You will still need to piece the big barn block and cut your own sashings and borders but the blocks are ready to sew. Limited inventory! Shop here.


Farm Fresh Embroidery
Over the summer we ran a short, three month BOM with the Farm Fresh embroidery blocks. We are now offering full kits - great for those of you who were interested but didn't really want to pay shipping every month. Limited inventory. Shop here.
Schedule:
Shop hours: M-Sa 11 AM to 3 PM
Facebook Live: Sept 4 and Sept 18 at 6:30 PM
Barb's Way/Carol's Way: Videos post to Facebook on (or around) the 2nd Thurs of the month.
Scrap Saver's Video: Will post to Facebook the 4th Thursday of the month.
AccuQuilt Virtual Event: Sept 11, 9AM-11AM "There's a Die for That!"
Register here!
Sept Retreat: Sept 24-27. This event is sold out.
5th Wednesday Event: Wednesday, Sept 30.
Keep on stitchin!
Carol and Barb